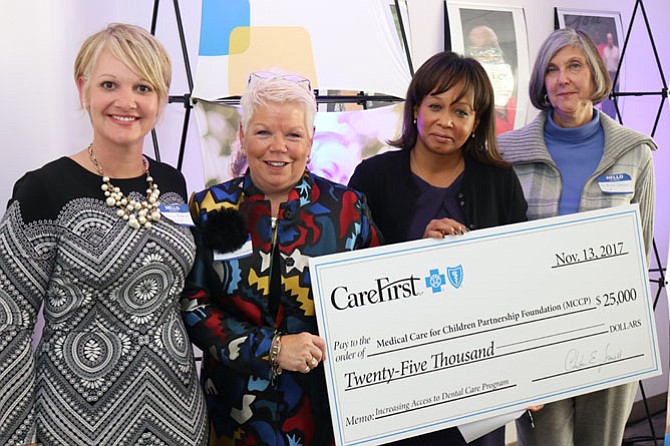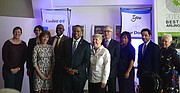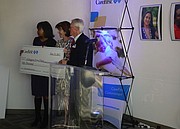 As Maria Tildon said, while handing out checks for $50,000, "if anyone ever doubted the power of women, just come up here and look out at this crowd."
The room was full of women — and a few men — who made Arlington's safety net organizations what they are: symbiotic teams. Tildon, who is senior vice president, Public Policy and Community Affairs for CareFirst BlueCross BlueShield, majored in international relations and would have been a smooth diplomat: she hastened to praise the men in the room, many of them elected officials who have fought for better health care coverage. Justin Fairfax, newly elected lieutenant governor of Virginia was one of them.
Many people are unaware that CareFirst BlueCross BlueShield (CareFirst) is a nonprofit company dedicated to improving health in the local community, in this case Northern Virginia, Maryland, and Washington,D.C. According to Julie Wagner, vice president for Community Affairs, CareFirst acts like a foundation: They work with more than 100 community-based organizations locally. What's in it for them to hand out grants to local safety net providers? "It's our mission," said Wagner. "People living healthy lives; the health of our community. That's what we do." Wagner said CareFirst was investing $275,000 in six partner organizations represented at the event on Nov. 13.
CareFirst BlueCross BlueShield, the region's largest not-for-profit health insurer, isn't like most health insurance companies. Tildon, for instance, was on a first name basis with everyone in the room, from Dr. Tom Connolly, one of the early volunteer doctors at Arlington Free Clinic and an activist in the healthcare arena, to Christian Dorsey, Arlington County Board member, and Stephanie Berkowitz, president and CEO of NOVA Family Services. CareFirst has a major community partnership: their commitment to reinvesting in the community goes beyond a legal obligation to preserve tax exempt status. CareFirst associates serve on more than 270 nonprofit boards, and in 2016, their associates volunteered more than 18,400 hours to community organizations.
CareFirst has one of the largest United Way giving campaigns in the region, raising more than $1 million through associate donations and a company match. Earlier this year, hundreds of associates participated in raising more than $300,000 in support of the American Diabetes Association.
Lieutenant Governor-elect Justin Fairfax was still celebrating the electoral victory on Nov. 7 and received a large round of applause as he stepped in to speak at the press conference after a last minute cancellation by U.S. Sen. Mark Warner. Fairfax said this was a special occasion for him: his wife was born in Arlington, his mother was a pharmacist and worked at the People's Drugstore here; his wife is a dentist; his sister is a nurse in Fairfax; his grandmother was a nurse. Access to healthcare, no matter what color, last name, or status, is something Fairfax personally champions.
"Here is a place of hope," he said, referring to the fundamental reason people come to the U.S. to seek a better life, or knock at the door of a safety net organization, "and we need to rise to the better angels of our nature and give these people care."
Fairfax said he was looking forward to working with those at the event, officials and citizens, in Richmond, where he hoped to expand health care: "There are 31 states who have voted to expand Medicaid —18 who have not — and as a result, the state of Virginia has given away $6 million a day in federal aid."
Tildon presented checks for amounts of $25,000 to $60,000 to each of six providers at the event, highlighting the interconnectivity that makes it work: none of the organizations could do this alone. The health care provider could not help patients if he couldn't prescribe medicines from NovaScripts, and then couldn't refer them NOVA Family Services for jobs.
Basim Khan, of Neighborhood Health, accepted a check for $50,000 noting that his organization is about to celebrate its 20th anniversary, and has set a new goal of trying to reach 21,000 patients. He said it was a firm Neighborhood Health belief that "the people we serve should get the same care that people get who are better off; we wanted our doctor's office to look like anybody else's. CareFirst made that possible at our Richmond Highway location. They helped support staff to get accreditation, and CareFirst helped us get pediatric dentistry on our list of services."
Kathleen Sibert, executive director of A-Span, accepted a check for $50,000 from Tildon. "We couldn't do it without you," she said. "We serve 11,000 people a year. Very often if there is a health problem, the doctor tells you to go home and rest and recuperate — but what if you don't have a home to go to? CareFirst made this possible. The nurse practitioner at A-SPAN, Kasha Shaw, heads up a five-bed medical respite program in our new facility which consistently runs at 95 percent occupancy."
Also receiving a check on Nov. 13 was the Medical Care for Children Partnership (MCCP). This is a program for youth who aren't eligible for other programs.
As Andrea Lomrantz, director of Family Services, Fairfax County, said, "We are the last stop on the safety net."
MCCP has a public-private partnership with Fairfax County to expand pediatric dental services to children in the Culmore/Stuart Pyramid community. Fairfax County's dental clinic can serve only 30 low-income patients. "We have 3,200 kids under our care," said Lomrantz. "The MCCP foundation was able to partner with Northern Virginia Community College and Dr. Basim Khan, to make Neighborhood Health the dental partner for these kids. We estimate just the cleaning alone is about $150,000 worth of leveraged care. The $25,000 from CareFirst will make it possible for us to provide that."
Another check recipient was President and CEO of Northern Virginia Family Services Stephanie Berkowitz. "Last year we helped 34,000 people on their journey to independence," she told the crowd. "CareFirst has been a partner with intent and impact."
Berkowitz highlighted the others in the room: "Because of the collective nature of what we do, we are on the cutting edge." She stressed the need for accessible behavioral healthcare; "It's one of our biggest needs. CareFirst has supported this for our most underserved community, particularly immigrant children or those who have been through trauma."
Berkowitz was followed by NovaScripts Director of Operations, Jessica Lantz, who also received a check and who noted over the past few years "we have dispensed $3.6M worth of life saving medications with the help of CareFirst funding. Also, with CareFirst we are able to continue to educate the community and help fight for health literacy through our Educate Before You Medicate program. The host of the event, Nancy White, executive director, Arlington Free Clinic, also received a check for $50,000. In 2015, Arlington Free Clinic launched its Oral Health Program in response to the large unmet need for dental care for low-income, uninsured Arlington adults. Grant funding from CareFirst has enabled AFC to sustain its capacity to deliver essential oral health care over the past two years; provide partial expansion of dental services; and identify options for increasing access to dental care for more patients and look towards providing a range of services offered in-house.