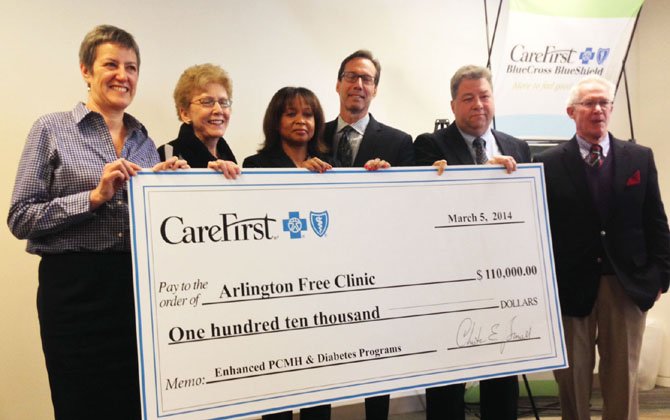 CareFirst BlueCross BlueShield's Contributions
to Arlington Free Clinic Top $1 Million
Insurer's latest grant for $110,000 will help Northern Virginia clinic expand PCMH program
March 05, 2014 - Baltimore — CareFirst BlueCross BlueShield (CareFirst) plans to contribute another $110,000 to Arlington Free Clinic to help the Northern Virginia health clinic better coordinate care during the next year for more than 500 uninsured patients – many of who have chronic diseases that require increased monitoring and adherence to strict medication schedules.
Arlington Free Clinic intends to use CareFirst's latest funding to strengthen its relationship with its network of community medical partners, equip diabetic patients with more resources and education to help them control their disease, and increase its patients' compliance with recommended immunization schedules.
CareFirst's grant builds on a $350,000 commitment the region's largest health insurer made in 2012 to help Arlington Free Clinic bolster a patient-centered medical home (PCMH) program for many of the 1,600 low-income, uninsured residents it treats each year. That coordinated care model is designed to improve the health of the clinic's patients by providing them with diagnostic tests and more specialized care offered onsite or by one of the clinic's community-based partners.
The grant also takes CareFirst's overall contributions to Arlington Free Clinic over $1 million, making CareFirst the clinic's first million-dollar grant maker in its 20-year history. That's an important distinction, because Arlington Free Clinic does not receive federal funding. The clinic relies on contributions from volunteers, private donors, businesses and charitable organizations to provide its clinical services to the community.
"This grant and CareFirst's long-term partnership with Arlington Free Clinic reflect its commitment to the importance of sustained access to quality health care throughout the region," said Nancy Sanger Pallesen, Arlington Free Clinic's executive director. "We are thrilled that this new grant makes CareFirst the first grant maker to go over $1 million in support of our services."
Since 2008, CareFirst, which operates the largest PCMH program of its kind in the U.S., has given Arlington Free Clinic about $610,000 to support its medical home program. The company also has partially funded the clinic's adoption of an electronic medical record-keeping system and other technological improvements.
"The work Arlington Free Clinic is doing to serve uninsured residents in Arlington County dovetails with CareFirst's mission to provide accessible and affordable health care coverage throughout our region," said Maria Harris Tildon, CareFirst's Senior Vice President of Public Policy and Community Affairs. "With its PCMH program as the backbone of its primary care services, the clinic is taking a forward-looking approach to providing the care its patients need most."
About CareFirst BlueCross BlueShield
In its 77th year of service, CareFirst, an independent licensee of the Blue Cross and Blue Shield Association, is a not-for-profit health care company which, through its affiliates and subsidiaries, offers a comprehensive portfolio of health insurance products and administrative services to 3.4 million individuals and groups in Maryland, the District of Columbia and Northern Virginia. In 2013, CareFirst contributed nearly $57 million to community programs designed to increase the accessibility, affordability, safety and quality of health care throughout its market areas. To learn more about CareFirst BlueCross BlueShield, visit our website at www.carefirst.com or follow us on Twitter: http://twitter.com/CareFirst_News.