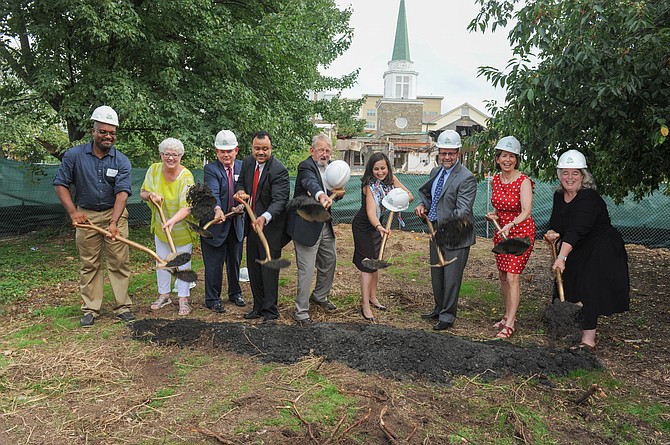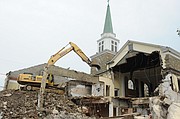 The Arlington Partnership for Affordable Housing (APAH) broke ground Thursday, July 27 on its newest project, Gilliam Place, which will be located at 3507 Columbia Pike. Gilliam Place emanated from Arlington Presbyterian Church's (APC) vision to put their faith into action and property into mission service. Gilliam Place will provide 173 new committed affordable homes for lower income individuals and families. Nearly 9,000 square feet of civic/retail space will be added with a mix of non-profit tenants.
More than 80 people gathered for the community-based ceremony. John Milliken, chairman of APAH's board of directors said, "I can't emphasize enough how much importance to attach to the word 'partnership' in APAH's name. We could not have a successful project without you all. APAH is proud to be Arlington County's partner in affordable housing development and proud to be a part of a community with a shared vision of diversity and inclusion that makes it a very special place to live."
Gilliam Place will be APAH's most complex project to date, with a total project cost of $71 million and more than nine funding sources. The Virginia Housing Development Authority (VHDA) awarded APAH $31 million in tax credits through its annual competitive process and is providing both long-term and construction financing.

David Bowers, vice president of Enterprise Community Partners, recounted the origins of his organization's faith-based initiative which has partnered with faith communities to create 515 affordable homes and support 1,200 more in the development pipeline. He expressed his gratitude for Arlington Presbyterian Church and APAH on the long-journey to Gilliam Place.
Susan Etherton, chair of APC's Moving Forward Team, joined in the celebration expressing "deep gratitude for our faithful partners, the Arlington Partnership for Affordable Housing, and more broadly to our Arlington community partners including Arlington County for journeying alongside us to bring this vision to life. As we ceremoniously break this ground, we will be honoring those who took risks, who not only broke new ground, but broke the rules, like Ronda Gilliam, our first African American member and founder of a clothing donation program in the early 1960s. To honor our church's legacy, this community will be named for Ronda Gilliam and all like him."

The Rev. Derrick Weston, the church's community organizer, asked the audience, "so what does it look like to be a church without a building?" In response, Weston announced that the church has purchased back from APAH two plots of land to develop a green space that will be "a sanctuary, an oasis, a place of meditation for people to calm their hearts and find their center once again. For us at APC, we see this as our new front porch where people will come to meet us and see who we are."

Gilliam Place was designed by KGD Architecture and Donohoe Construction Company is the general contractor. The property is expected to open to residents in late 2019.
Speaker at the groundbreaking included: Karen Chamis, director of Congregational Development and Mission, National Capital Presbytery; John Milliken, chairman, APAH board of directors; Katie Cristol, Arlington County Board vice chair; Art Bowen, director of Rental Housing, VA Housing Development Authority, VHDA; Ed Delany, Senior Director and Senior Capital Officer, Capital One; David Bowers, vice president of Mid-Atlantic Market Leader, Enterprise Community Partners; Susan Etherton, Moving Forward Team Chair, Arlington Presbyterian Church; the Rev. Derrick Weston, community organizer, Arlington Presbyterian Church; and Nina Janopaul, APAH president and CEO.