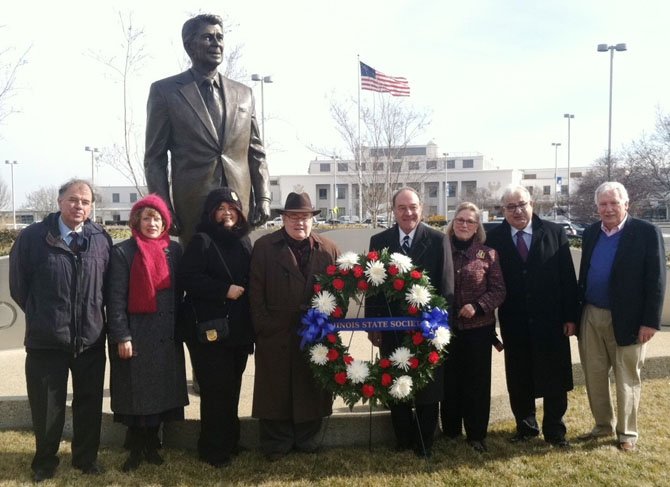 Passengers traveling through Ronald Reagan Washington National Airport Feb. 6 joined in singing "Happy Birthday" to commemorate the 103rd birthday of President Ronald W. Reagan during a wreath presentation ceremony at the airport's statue of the former president.
Sponsored by the Illinois State Society of Washington, attendees included Paul Malandrino, vice president of the Metropolitan Washington Airports Authority and manager of Reagan Airport, former Illinois state Sen. Mark Rhoads and staff from the Reagan administration.
The nine-foot bronze statue of Reagan is located at the airport entrance directly in front of Terminal A. The airport was renamed Ronald Reagan Washington National Airport in 1998 and the statue was erected in 2011 in honor of Reagan's 100th birthday.
Reagan is one of four U.S. presidents who were from Illinois. He was born on Feb. 6, 1911, in Tampico, Ill., grew up in Dixon, Ill., and graduated from Eureka College in Eureka, Ill. He began his professional career as a broadcaster in Illinois and Iowa. Reagan served two terms as president from 1980-1988.
For more information on the wreath presentation ceremony at the Ronald Reagan statue, visit http://illinoisstatesociety.org or contact Jeanne Jacob at 703-461-3622.