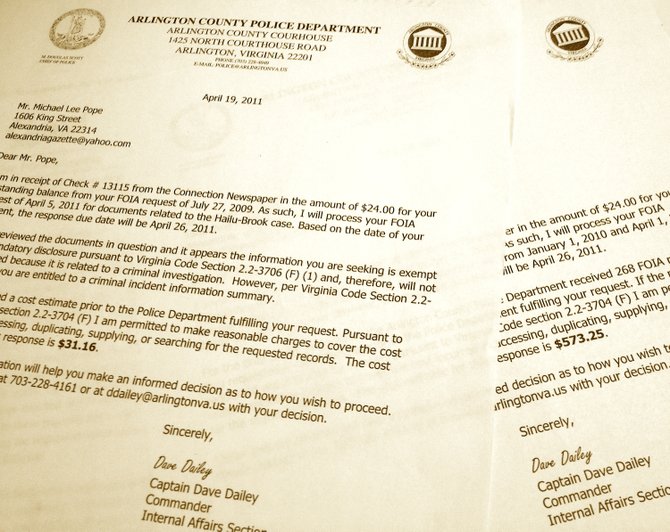 Audio clip
Dave Dailey Explains Fees
Want a booking photo in a high profile case? Prepare to pay $24. Want to see a copy of a report clearing officers who killed an unarmed teenager? Arlington County Police officials won't release the document, and they'll send an invoice for $31.16 to cover the half an hour of staff time to summarize the secret report. How about copies of all the Freedom of Information Act requests from a given year? Prepare to pay $573.25.
"I've done some that are $5.40," said Dave Dailey, commander of Internal Affairs at the Arlington County Police Department. "Every criminal incident summary is different because it depends on how in-depth the case is."
Unlike other police agencies in Northern Virginia, the Arlington County Police Department charges for staff time to access to pubic information, large and small. Alexandria officials hand over boxes of documents at no charge. And although Fairfax County is often reluctant to share public information, officials there have never charged for staff time for a six-line summary of a document they have decided to shield from the public view.
Arlington County has moved in a different direction.
Consider the case of 19-year-old Hailu Brook. Fairfax County police officers chased him into Arlington County. According to the autopsy, three Fairfax officers fired 20 to 25 rounds into the unarmed teenager. Arlington Police officials conducted an investigation, which they could release to the public and the slain teenager's father. But they have decided to use their authority under the Virginia Freedom of Information Act to withhold the document from public scrutiny. They've also decided to use their discretion to issue an invoice to cover 30 minutes of staff time for the manpower required to summarize the secret document.
"As you can imagine, that's not a one-line police report," said Dailey. "It's not the amount of time to write, you have to research it, and you have to find the case folder, and you have to go through it, and you have to summarize it."
ACROSS VIRGINIA, very few details are available to the public about crime that happens every day. From petty larceny to murder, Virginia police officials routinely deny access to basic documents such as incident reports. In the case of Hailu Brook, his father Brook Beshah can't even get a copy of the investigation conducted by Arlington County officials detailing how Fairfax County police officers shot and killed his son — even though the case is closed.
"The refusal to provide access to closed investigative files in these kinds of circumstances creates a lack of trust in the department," said Claire Guthrie Gastañaga, executive director of the American Civil Liberties Union of Virginia. "And I think police agencies ought to be concerned about that."
Last year, the Center for Public Integrity gave Virginia a failing grade for transparency because the public has such limited access to information. As part of a partnership with Global Integrity and Public Radio International, the State Integrity Investigation ranked and graded each of the 50 states on government accountability, transparency and corruption. Virginia got an F. Now advocates for open government say Arlington County's system of nickel-and-diming the public and the press serves as a barrier to public access.
"Most do not charge for a simple one- or two-page copying task," said Ginger Stanely, executive director of the Virginia Press Association. "As more and more publications run multiple pages of mug shots, this is becoming an area where police and sheriff departments are starting to find ways to charge and slow down the process."
WHEN THE FORMER ALEXANDRIA chief of police was arrested for drunk driving in Arlington in 2009, the department received seven media inquiries for the booking photo. According to the former commander of the Internal Affairs Department, all seven organizations were sent an invoice of $24. Only four of the news organizations were willing to pay the fee, creating a revenue stream of $96 to the department for a jpeg image.
"The actual staff time to collect all the pertinent information related to this case was about 1-2 hours," wrote former Internal Affairs commander Patrick Donahue in an email explaining the charges. "However, in the interest of fairness, we did not want to 'punish' the first requester and charge only them and give the subsequent requesters free responses. So each response was billed the same amount."
Critics say that's not how the law works. The Virginia Freedom of Information Act gives Arlington the right to charges for the "actual cost" of supplying the information. Because the actual cost of retrieving the information had already been paid by the first media organization, subsequent media organizations were billed in the name of fairness even though the charge did not reflect an "actual cost."
"That seems to me to be really pushing the limits of the law because it's supposed to be the actual cost," said Mark Caramanica, Freedom of Information director at Arlington-based Reporters Committee for Freedom of the Press. "If you went through the whole search and review process yesterday, then the next day — even if you find it inequitable to do so — you are bound by the law to charge only your actual costs."
ARLINGTON POLICE OFFICIALS now say they have changed their practice for booking photos, and that they will now make them available free of charge. But they will continue to charge for staff time associated with tracking down public information. For example, a 2011 request for copies of all Freedom of Information Act requests over the course of a year was met with a cost estimate of $573.25. When asked to explain the charge, Arlington police officials explained the amount was calculated by charging an hourly rate of $57.35 for 10 hours of staff time.
"It should not take hours for a staff person to retrieve this," said Thomas Blanton, director of the National Security Archive at George Washington University. "They don't have to charge you fees. In fact, there's a little noticed provision in a lot of agencies' regulations that says if it will cause more work to correspond back and forth about your fee status than it would just to produce the material then you should just produce the material and not worry about the fees."
For now, the Arlington County Police Department is standing by its practice of charging for access to public information.
"Our goal is to be transparent, and to be transparent and be in compliance with the FOIA statue," said Dailey. "And I think we meet both of those goals."