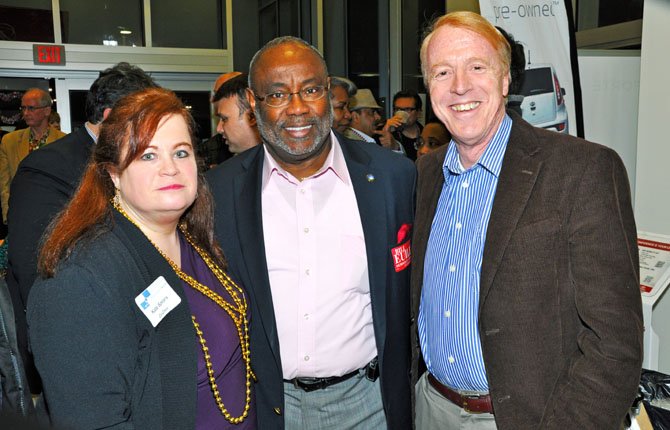 Alexandria Mayor Bill Euille, one of the 11 candidates running for the 8th Congressional District seat in the Democratic primary, is flanked by the Mount Vernon Democratic Committee co-chairs Kate Spears (left) and state Sen. George Barker (D-39) to his right. The straw poll was held at Don Beyer Volvo in Alexandria on Saturday, March 1, and was sponsored by the MVDDC.
Stories this photo appears in:

Former ambassador Donald Beyer won the first straw poll battle for the outgoing U.S. Rep. Jim Moran's 8th district seat on Saturday night, March 1 with 25 percent of the vote (105 votes). Community leader Lavern Chatman came in second with 20 percent of the vote, and Del. Patrick Hope of Arlington received 19 percent. 419 of those in attendance coast their votes in the primary straw poll and about 470 Democratic activists attended the event. Bruce Shuttleworth did not attend because of a previous engagement.