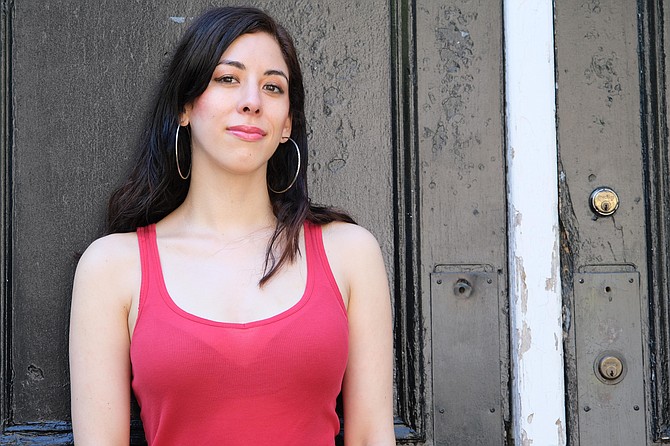 Christine Sloan Stoddard remembers back to kindergarten at Jamestown Elementary in Arlington when her drawing won the contest for the cover of the literary magazine. Now 29 years later she has had her first feature film, "Sirena's Gallery," accepted for distribution on Amazon, Hoopla and Vudu among others. The film debuted Aug. 27 at the Byrd Theatre in Richmond. 
In addition to being a filmmaker, Stoddard is an author with a book of plays as well as an artist working in watercolor, mixed media collage and sculpture with a juried show at the Howard County Center for the Arts in Maryland. 
"I owe a lot to Arlington schools," she said.
Stoddard said "Sirena's Gallery" grew out of a college assignment to produce a short 8-minute film script. She always wanted to use that trial as a stepping stone to a feature film. She had a lot of ideas and questions about the power structure in art galleries and when the opportunity actually came, she had a good sense of what she wanted to do. When she was awarded a two-week residency at 1708 Gallery in Richmond, she used the time to make the film.
"It was during Covid-19 so I had the gallery all to myself in May 2020 when we weren't exactly sure where the pandemic was going. I had envisioned conversations with gallery patrons but because of the pandemic, I had to do everything over Zoom." As a result Stoddard wrote, produced and was the only actor in her film. "Sirena's Gallery" is about a Salvadoran-American woman's struggle as an art gallery owner during the pandemic as she adapted to isolation while grieving the recent loss of her husband.
Stoddard says the film is very loosely inspired by her life. "She is Salvadoran-American like me. The protagonist runs a gallery. It is inspired by my experiences in the gallery world. But it is definitely a work of fiction."
Stoddard says she waited until March 2021 to edit the film. "When I returned to Brooklyn it was right after George Floyd, and many stores were ruined. It was frightening to think what would have happened if I'd been there at the time. There was a lot of chaos in the city." That was also the time she was moving apartments. "It also took me a lot of resettling and rethinking my life during the pandemic.
"It's also a project to edit a whole film by yourself. It took me one and a half months to finish. The film was largely shot in the gallery. I also made use of the outdoors." She explains the work was entirely digital. "At one point I had two different laptops; I had so many different clips and had to scan in some paintings." She also had archival footage of a trip she had made to San Salvador for a residency when she was 29-years-old, her first trip to the country where her mother had been born, had left and never wanted to return. "I spent hours watching the footage; it wasn't unusual to watch dozens of times."
She finished the editing in May 2021 and then started submitting the film to distributors. "It's difficult to get on a platform as an independent." She said it is also difficult to secure funding. The government doesn't provide much funding for non-profits so you have to rely a lot on independent funding from philanthropists. Then in September 2021 Summer House said "we want it."
"I was very excited. Then I had to wait two years for the distributor to put it on Amazon." She adds, "That's actually very fast; 5-7 years is not unusual.
"Theatre attendance is down. People are watching at home now so the process of getting it picked up is condensed. But you have to come up with all the marketing, pitch it." She says it was held off because the film is Covid-related and many people needed distance from that period.
"I was lucky the distributor kept the project. I was afraid they would change their mind."
She says filmmaking is a cutthroat business but all of the creative industry is like that. "Part of it is that we get to use our creative talents to express ourselves, and it doesn't have a commercial value in our society like the sciences for instance." She adds, "There is a lot of competition to be seen, known, recognized."
A lot of things coincided to bring Stoddard to where she is today. Her father was a native New Yorker who worked as a documentary filmmaker for NBC. Her education in Arlington centered on creative writing and visual arts; and she still remembers Mr. Russell, her Jamestown teacher. By the time she was at Williamsburg Middle School she says she ran a wonderful weekly arts club with her sister "where we would hang out and draw."
In high school she remembers another incredible art teacher and became associated with "Teen," a national arts magazine and got to interview Laura Bush at the White House. 
She headed off to Grinnell College in Iowa on a scholarship for a year and then graduated in arts at VCU after which she received her MFA at City College of New York. Now she is an MA Oral History candidate at Columbia University. Stoddard always has projects in different phases and is continually looking for different partnerships and grants. Her short film "Uncontested" just premiered, she is preparing a talk at William & Mary. Her play "Tank" is just entering its fourth week at a small theatre close to Penn Station with the idea to pitch it to a larger theatre.
She says New York City is the place to be. "New York It is a place for artists with a more independent artistic feel. It really has all of the creative interests."