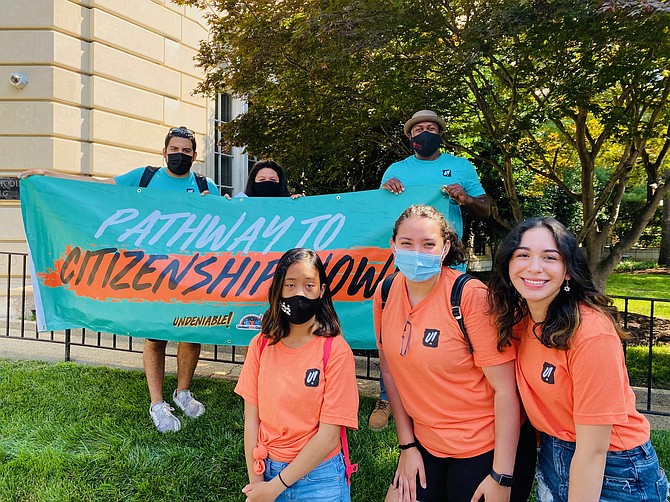 When she was two years old, Karla Mercado Dorados and her parents moved to the US from Bolivia in search of a better life, one built on a quality education. They settled in Fairfax County believing that the public schools were among the best in the country. 
As a student at Annandale High School, Dorados excelled academically, so exploring higher education options during her junior year was a natural progression.
"Like other kids I was looking at colleges," she said.
One stumbling block that Dorados had not anticipated was that her status as an undocumented immigrant would limit her options for the financial assistance she needed to attend college,
"I never talked about being an undocumented student," she said. "There wasn't much said about undocumented students, but all of a sudden, I had to think about the limitations my undocumented status would present to me."
Reluctantly, she discussed her plight with officials at her high school."My teachers and counselors were supportive and engaging, but I felt like I was the only student in that situation and that there was limited support." 
It was through resources at her high school that she discovered TheDreamUS, an organization that provides college scholarships to undocumented immigrants who attend one its partner colleges. 
Dorados chose Arlington's Marymount University and during her first year on campus she became active in the Latinx Student Association and Saints Unafraid, the University's immigrant rights advocacy organization. As a result of her work, she was selected to receive Campus Compact's 2023-2024 Newman Civic Fellowship, which is awarded to students who demonstrate a commitment to creating positive change in communities locally and around the world. 
"Karla is passionate about social justice and immigrant rights, and works to raise the profile of the issues faced by immigrant students on campus as well as heighten the consciousness of her peers, staff and faculty regarding these issues," said Dr. Irma Becerra, president of Marymount University. 
From an early age Karla felt supported by her parents who underscored the value of education.
"I've had high expectations from the beginning just as any parent does for their child, regardless of whether we were here or back in Bolivia or wherever," said Dorados' mother. "Karla has always been a smart kid since she was little, and I knew she would do great things as she got older. Unfortunately, we never expected for her to be in this situation with her legal status."
In Summer 2021, Dorado represented Marymount's undocumented student population at a ceremonial signing event held on campus with former Virginia Gov. Ralph Northam for a bill that made all Virginia students eligible for state financial aid if they are eligible for in-state tuition, regardless of citizenship or immigration status. 
"I was invited to speak and my mom was there to support me and it was nice having that," said Dorados. "When they saw the work that I was doing they wanted to make sure that I felt empowered and that they saw the important work that I was doing. It was important to me to know they have my back."
Dorados' mother has encouraged her commitment to being a trailblazer. 
"It's frustrating to see the constant struggle of the community to obtain very basic rights in life," said her mother. "I'm incredibly proud of her accomplishments, especially because they are really all her own. Karla has been forging her own path and making her own opportunities wherever possible, which is no easy feat given the odds she's faced."
Dorados is on track to major in Biochemistry with a pre-medicine minor.
"I had plans to apply to med school and I still do but I am interested in health care," she said. "I enjoy interactions with patients. I want to do something in healthcare that benefits those who don't have them including Black and brown folks."