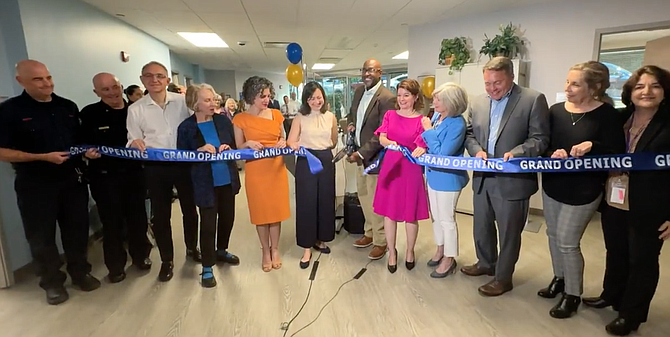 Arlington County held a grand opening Monday, May 22 for its newly expanded Crisis Intervention Center. The Crisis Intervention Center will provide behavioral health care services in a community-based setting to individuals experiencing a psychiatric crisis. 
"A significant step by the County," Commonwealth's Attorney Parisa Dehghani-Tafti tweeted. "This will make a difference in us working to treat and not criminalize people experiencing a mental health crisis. (Also pretty sure this is my first ribbon cutting ceremony. You don't usually get to do these as a prosecutor.)
"Arlington took a meaningful step today by inaugurating a Crisis Intervention Center, open 24/7, 365 days to all ages. The goal is to provide a resource — a safe place —  before individuals get involved in the criminal legal system. We still have a lot of work to do but with this center we are devoting resources to making real what criminal justice reformers have long shown: the more resources we devote to mental health care the safer we will make our communities."
The center is open 24 hours per day, seven days a week, to individuals of all ages experiencing a crisis. The CIC provides a warm, comfortable person-centered environment focused on recovery and wellness.
The primary goal of the CIC is to offer comprehensive crisis stabilization services in an outpatient setting such that a client can be diverted who might otherwise require inpatient psychiatric services. The center offers a safe environment where clients can have the best opportunity to receive an effective crisis plan. The Center provides the highest level of support during a crisis that an outpatient setting can offer.
Referrals are made to the CIC through walk-ins, and self-referrals by the clients, family members, case managers, or other CSB clinicians. The CIC will also help with important coordination including the date and time of follow-up appointments, medication instructions, referral resources and contact information for Emergency Services.
The center provides aid to individuals in severe distress for up to 23 consecutive hours.  Services offered include: Prompt behavioral healthcare assessments; Observation; Stabilization; De-escalation; Peer counseling; Supportive services; Determination of the appropriate care level.
A critical component of the CIC is providing de-escalation to clients under psychological distress or those requiring immediate care associated with substance use or a behavioral healthcare disorder. 
The Center has five calming rooms to offer a safe, comforting and warm space for intervention. Each room has couches and recliners available for a client to rest, as well as to meet with a clinician and provider, as well as peer support specialists, over an extended period. 
Security is present 24 hours a day to ensure client safety. "Special Conservators of the Peace" can accept transfers of custody from law enforcement that would otherwise be holding the client for possible hospitalization. 
Nursing support is a core component of the intervention, ensuring medical needs are adequately assessed and addressed. A Nurse Practitioner provides psychiatric support to assist in the intervention with medication, allowing a level of psychiatric intervention without requiring a hospitalization.
CR2 Crisis Response 844-627-4747
CR2 provides 24-hour rapid response to children, youth, and adults facing a mental health and/or substance use crisis who may be at risk for hospitalization. Call for mental health concerns that may be a potential risk for hospitalization, such as: Thoughts of suicide; Threatening behaviors; Hallucinations or delusional thinking; Substance use; Property destruction; Extreme social isolation; Loss of coping skills; Dangerous decision making; Aggression or self-harm.
Crisis Intervention Center Contact
Phone: 703-228-7295
Address: 2120 Washington Blvd., Arlington VA 22204
https://www.arlingtonva.us/Government/Departments/DHS/Behavioral-Healthcare-Home/Crisis-Intervention-Center