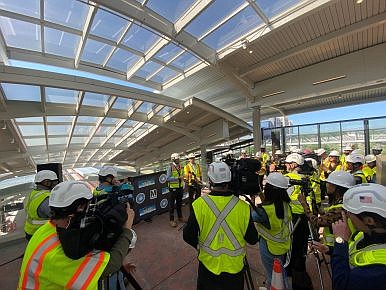 The long awaited and oft-delayed Potomac Yard Metro Station will officially open at 5 a.m. May 19, bringing Blue and Yellow line service to the Potomac Yard area between Braddock Road and Ronald Reagan National Airport.
"It's not cliché to say, in this instance, 'dreams really do come true,'" said Mayor Justin Wilson in announcing the official opening date while touring the site last month. "Bringing Metro to Potomac Yard has been the City's most significant economic development, transportation and climate initiative. While not always easy, the opening of this station is a monumental achievement for the city, WMATA, and its contractors. But more importantly, this station is the legacy of a legion of Alexandrians who never gave up the dream."
Potomac Yard will be Metro's 98th station and is Metro's second infill station, built between existing stations. The station is located near Amazon's HQ2 East Coast headquarters in Arlington with walkable access to the Virginia Tech Innovation Campus and connections to other regional transportation systems, Bike & Ride facilities, and walking paths to the station from the surrounding area.
"Bringing Metro to Potomac Yard has been the City's most significant economic development, transportation and climate initiative."

— Mayor Justin Wilson

 
The station was initiated by the City of Alexandria and funded by tax revenues and developer contributions generated by planned new development in the Potomac Yard neighborhood, as well as state grants, loans and regional sources.
Along with private partners, $370 million was invested and the contractor was awarded a $213.7 million contract. The station is one of the first rail stations in North America to receive a Leadership in Energy & Environmental Design (LEED) designation from the U.S. Green Building Council. 
Years after work officially began, a groundbreaking ceremony was held in December of 2019 with a projected opening of April 2022. Work to tie-in the station and new tracks with the rest of the Metrorail system was not concluded until last November, and trains have passed through the station without stopping as the remaining work continued.
"While delayed longer than expected, it is exciting to start the countdown to opening Potomac Yard Station for our customers," said Metro Board Chairman and former Alexandria City Councilman Paul Smedberg. "By adding this infill station to the Blue and Yellow lines, we are anchoring Potomac Yard as a hub for employment, education, housing, and recreation."
More than 3,750 feet of new track was used to connect Potomac Yard Station with existing Metrorail tracks. According to Metro, the station is expected to generate billions of dollars in new private sector investment over the long term and eventually support 26,000 new jobs and 13,000 new residents.
The station is accessible through the North Pavilion at 3201 University Drive and the South Pavilion at 3001 Potomac Avenue. Both entrances are connected to the station via a pedestrian walkway.
Bicyclists can access the station via the Potomac Yard Trail or Potomac Avenue. Secure bike parking is available at the North Pavilion with room for 49 bikes, with Capital Bikeshare stations nearby.
Metroway and DASH bus stops are located near the North Pavilion entrance. There is no Kiss & Ride or commuter parking available.
www.wmata.com