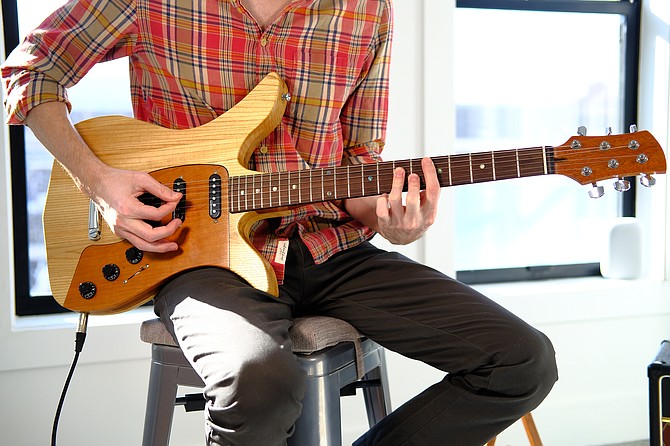 Aaron Maisler visited the House of Musical Traditions in Takoma Park last year to check out the market for making a new kind of guitar. The store manager, Brennan Kuhns, told him, probably with one skeptical eyebrow raised, "If you can bring me a guitar I've never seen before, then I'll definitely buy you a cup of coffee."
Maisler will be stopping by to get his cup of coffee any day now. This young musician is launching a Kickstarter campaign on June 15 to put his modular guitar into production. After a year in active development, his start-up, Fern Guitars, will take the first step toward putting the instrument in the hands of guitarists in the United States and around the world. And people are waiting.
"The Phoenix's design and function is like no other currently on the market," said inventor and founder Maisler. "Throughout the development process, we've received extremely positive feedback from musicians across the board."
The Phoenix is the only modular guitar that offers multiple pickup and control configurations while still keeping the traditional feel of an electric guitar. Modules can be swapped in seconds, without the need to disassemble or change strings. And it's made entirely of wood.
"Our vision is for a one-of-a-kind guitar that provides maximum utility to musicians everywhere," Maisler said. "Now we're taking our final step to bring the Phoenix from a prototype to a full-fledged instrument people can get in their hands."
Maisler's idea was born the day he was packing for Japan to spend two years teaching English and learning Japanese. Which guitar of his collection of ten or so guitars should he take? As a guitarist, he often needed more than one. He bought three used guitars in Japan.
A musician since the age of 7, Maisler grew up with a peripatetic father: elementary school in Gaithersburg, more schooling in Ohio, and college in Florida. After graduating with a degree in Journalism, Maisler decided to learn Japanese with the Japan Exchange and Teaching Programme (JET) and ended up living in Japan for two years.
Back in the U.S., fluent in Japanese, he stayed with a sister in Washington, D.C. while he figured out what to do next, and found a job as a journalist with Fuji TV's Washington bureau covering the news out of D.C. "I love an adventure. If I didn't, I wouldn't have started my own business," said Maisler. He got restless after two years. The job of a journalist was 24/7. Maisler missed music, and wondered how he could be a musician and manage to send (future) kids to college. He set up "Fern Guitars" and started designing the Phoenix.
Maisler had saved enough money, and done enough research, that he was able to set up a factory in Upperville, Va., to begin producing prototype guitars out of local ash and cherry wood, treading carefully around the pandemic.
The Phoenix is a hit on social media. Fern Guitars has more than 16,000 TikTok followers, 2,100 Instagram followers (@Fernguitars) and has accumulated over a million views across multiple platforms. Now all he needs is the first 20 orders.
Sitting outside Northside Social, looking a little like a young Bob Dylan, Maisler was excited about the launch. "Our specialized manufacturing process allows us to create a guitar that's never been made before."

The Kickstarter campaign will offer multiple pricing tiers, with priority given to early adopters. The first ten backers will secure the guitar for $999, with the next tier being $1,200. All pre-order options for the Phoenix include one module. Additional modules in most popular configurations, such as humbucker, SSH, P90 and two different types of single coil configurations, will be $425 each for the first 10 modules sold, then $445 afterward.
To learn more about Fern Guitars and the Phoenix, see: https://kickstarter.fernguitars.com https://www.kickstarter.com/projects/682955555/the-phoenix-fern-guitars-an-all-wood-modular-guitar