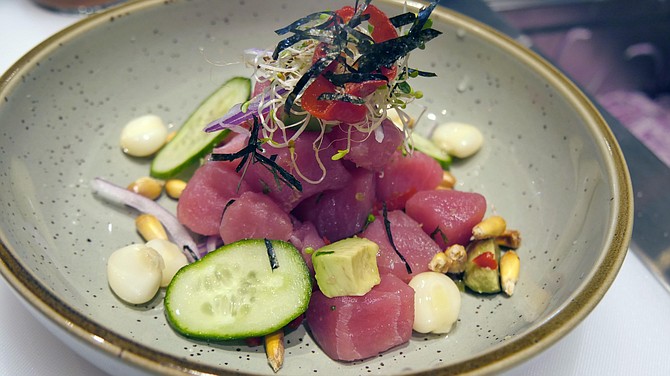 Michael Ciuffardi, Executive Chef of Inca Social, is in the open air kitchen perfecting his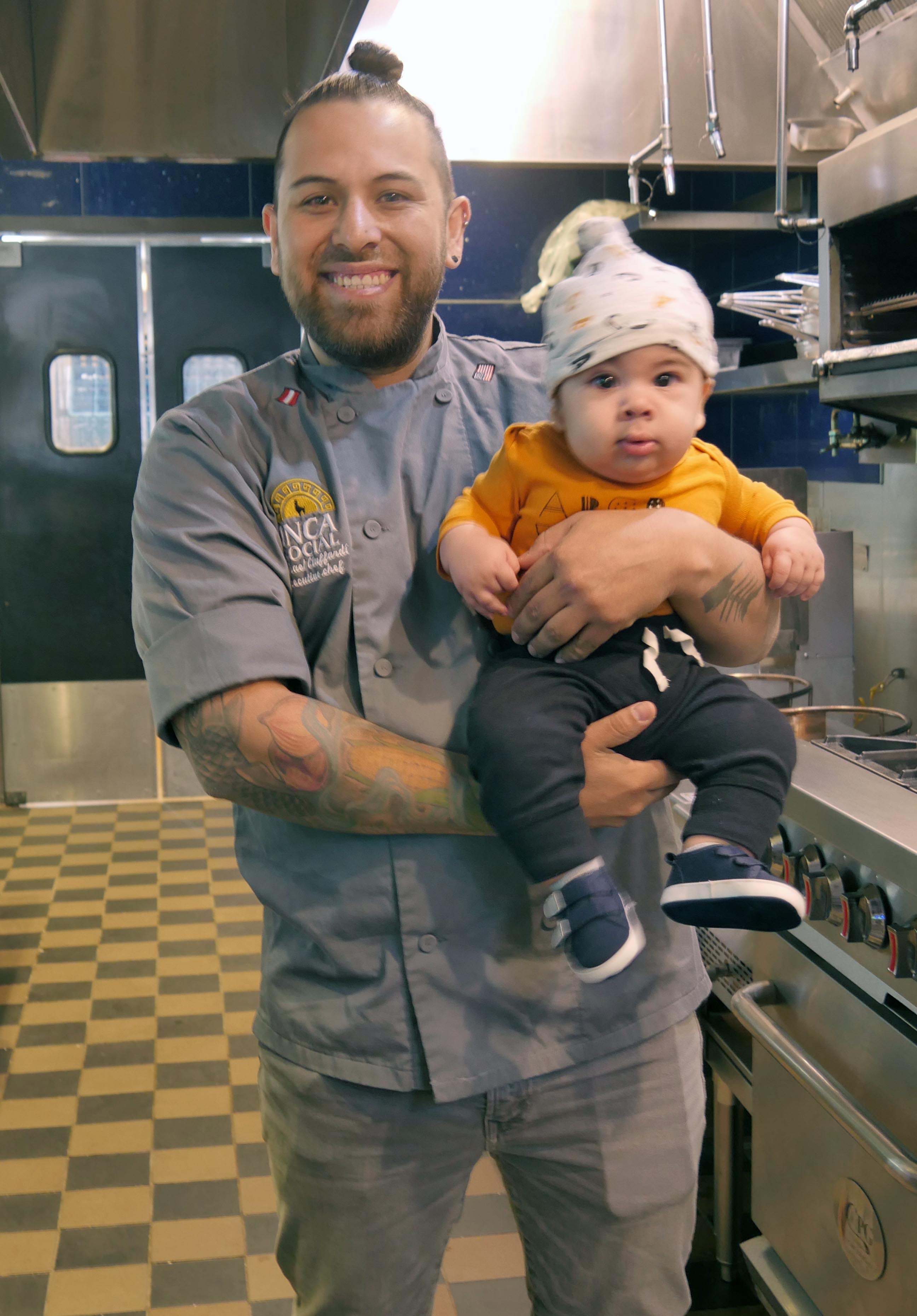 chicken causa before the grand opening of the restaurant scheduled for Dec. 21.  His 5-month old son lies asleep in his baby seat nearby. Cuiffardi says he is a big family man and always has his wife and son nearby at the restaurant. Every time Ciiuffardi cooks he has his son along with him, and he says he is hoping he will pass along the love of cooking.
Ciuffardi is grinding potatoes, a staple of many Peruvian dishes.  He will infuse the potatoes with a paste of salt and lime and yellow peppers, native to Peru. Ciuffardi squeezes the mixture with his hands until everything is well mixed and he forms it into potato pillars. He sets three in a row on a rectangular orange dish. This version of causa is topped with shredded chicken salad mixed with peppers, a little mayo and red onions. "We always use red onions."
He places a tangle of alfalfa sprouts on the chicken salad. Next Ciuffardi artfully drizzles rocoto pepper-based sauce, again with plenty of lime, and then splashes their staple Inca sauce around the edges. "This sauce has 30 ingredients including turmeric, mustard, cumin, black mint from Peru, and …..the rest are secret." Peruvian cooking uses a lot of yellow chili peppers, which can be hot or mild depending on when they are picked.
Satisfied with his causa, which can also be topped with shrimp or a mixture of veggies, Ciuffardi turns to put the final touch on a tuna ceviche. The bite size chunks of tuna are set in the center of a large bowl with small chunks of avocado, shreds of cilantro, traces of purple onion, thin slices of cucumber and tiny pearl onions. "A unique ingredient is the crunchy cuzco dried Peruvian corn." When the dish is completely arranged with shreds of seaweed on the top, he slowly pours a beaker of mango marinade over the ceviche.
Giuffardi is from Peru where his family owned restaurants. He used to follow his mother to the grocery store, and he says now nothing is really complicated for him because he loves cooking so much. "When I cook, it brings back memories of my mother." He left Peru where he had studied with the famed Gaston Acurio. Giuffardi says he was able to leave Peru because he knew things were in good hands there and he wanted to expand awareness of Peruvian food in America.
Fito Gardia, an owner of Inca Social, sits on a barstool in front of a wall lined with mysterious formations outlined in bright lights. "These represent the unknown creatures that only take on shapes when seen from the air at Nazca. Some look like animals, like that monkey or that fish, but others are a mystery. Some legends say they were created by aliens."
Gardia explains generally Peruvian cooking is a fusion of Peru with Japan, Italy, Spain, a little bit of Africa. The menu at Inca Social reflects this heritage. Gardia says they will have a ceviche bar that is "way outside the box." Gardia explains usually ceviche is made with white fish but, for instance, they will go for tuna with Peruvian-Japanese fusion of a ginger marinade with plenty of lime. Some others will still have citrus but it may be mango or passion fruit.
They are thinking about a risotto with duck or quail and citrus sauce. Of course the restaurant will have the staple, and everyone's favorite, arroz con pollo. Gardi says he is hiring a pastry chef to produce the algo dulce including tres leches, flan, churros and inca suspiro with port meringue and cinnamon.
Gardi says he met Giuffardi at a festival when Giuffardi was on his way to another job, and "we hit it off. I liked his ideas and he has a different mind set. He gets his hands dirty and sets an example for the rest of the team so everyone works better." Gardia adds they are like a family. They read the reviews and they are happy or they improve. He says some customers may not like a particular taste so it's about finding out what they would like.
Gardi says he loves Arlington. "The local government is awesome helping small businesses out. The foot traffic is amazing, and people in Arlington love food. They are adventuresome. They say they want healthier and they want portion control but they want trendy. They want to try ceviche."
Gardi explains the restaurant holds 187 indoors but outdoors holds 91. "See the front glass disappears and we expand outside onto the patio. "They like happy hour around here."
Ciuffardi started a family and moved from Arlington to Centreville where he started a couple of restaurants and was in corporate management for a couple of years. "But it was too slow," so he moved back and opened Inca Social in Vienna in 2019. It was a perfect space "although I always knew I wanted to end up back in Arlington." He opened the Vienna restaurant a year before COVID hit. "It was really scary for a small business. We had to pivot. We changed everything and went to delivery. We delivered things ourselves." He said they fed homeless and nurses.
Although Inca Social will have its grand opening on Dec. 21 at 1776 Wilson Blvd. with a ribbon cutting in the afternoon, the restaurant will have a soft opening as they continue to perfect the food and experience from Dec. 7-19, from 4-9 p.m. Monday-Thursday and 4-10 p.m. Friday and Saturday.