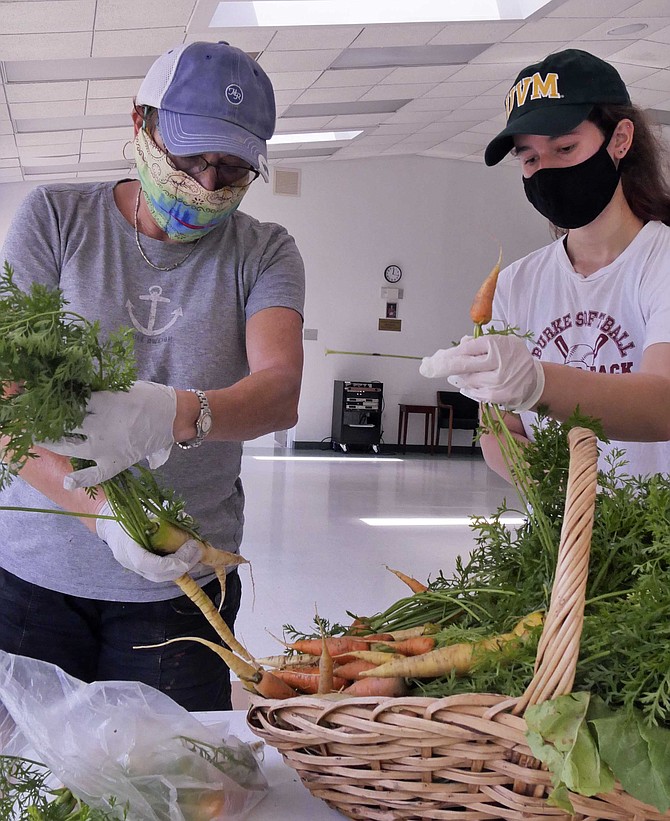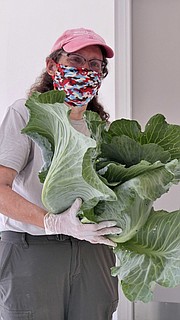 It is Monday morning, and eight vegetable bagging work stations are located more than six feet apart in the Rock Spring United Church of Christ Carpenter Room. Volunteers have bagged 1,025 pounds of vegetables since June 1 when this volunteer effort began to meet the food insecurity challenge produced by the coronavirus pandemic.
Donors drop off bags of kale and collards and radishes, supplemented by green beans, peppers, zucchini and cucumbers as the season changes. The produce is grown by backyard gardeners and Plot Against Hunger Gardens.
Rebecca Halbe, Food Donation Coordinator working in conjunction with Virginia Cooperative Extension, says, "We greet the donors who never enter the building. We weigh the produce, record the donor name, type of produce and weight." The produce goes to a table, and the volunteer takes the produce from that one table back to their bagging station.
Halbe explains, "When Arlington Food Assistance Center told the Plot Against Hunger Committee that it could no longer accept garden produce, the Plot Committee and Arlington Friends of Urban Agriculture got our heads together to make this happen. It has been a total volunteer effort."
Halbe says she has heard from several older volunteers that they are grateful because this is the first volunteer effort that hasn't turned them away due to their age. Safety precautions are important and volunteers are all required to wear a cap or other head covering, face mask, gloves and all are required to watch a food safety slide deck before they begin.
So far the produce has been donated to Our Lady Queen of Peace Catholic Church, St. Charles Borromeo Catholic Church, and the YMCA, who all have regular food distribution efforts.
And at the end of Monday, the day's total was 261 pounds, a new record. It came from 10 different gardens — some schools, churches and individual gardeners.
"We are all committed to growing food for people in need and, with the pandemic and so many people out of work, the need has never been greater."