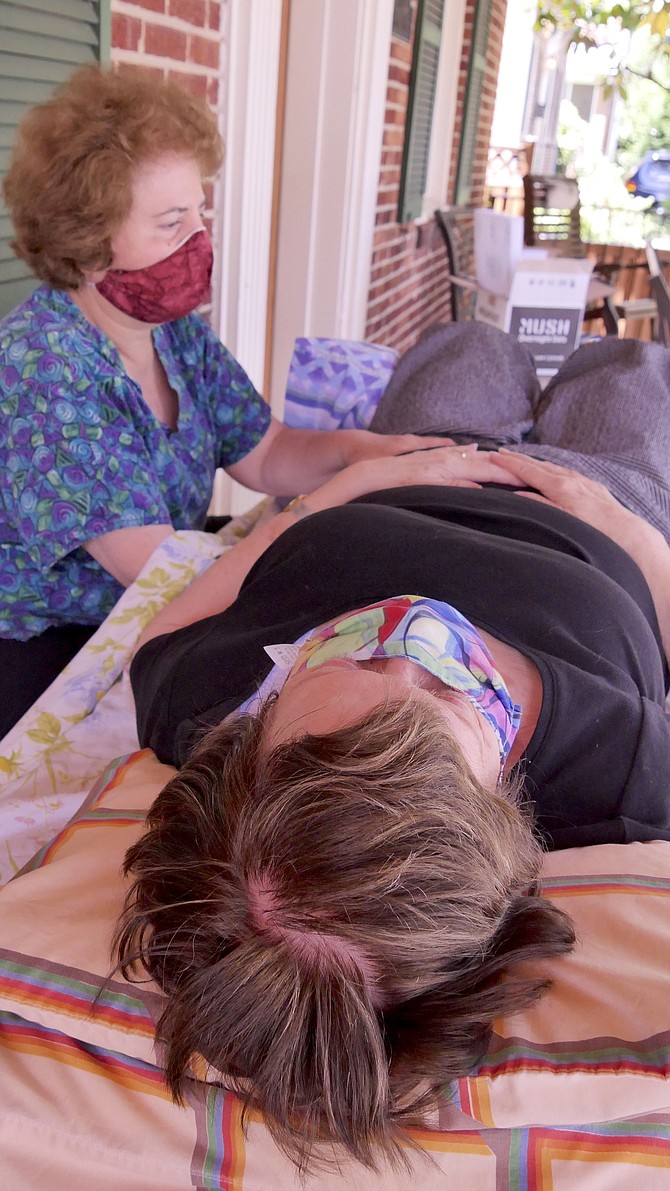 Two ceiling fans move the pleasant afternoon air on the front porch of Lisa Shimberg's house where she has set up a physical therapy bed. Shimberg has moved some of the patients in her practice outside for those who are taking extra precautions during the coronavirus pandemic.
A two-gallon size bottle of hand sanitizer sits on the porch beside a container of Clorox wipes. Shimberg has completely cleaned the porch, the railings and fresh sheets cover the massage bed. If a patient uses the bathroom, she cleans it between patients. And then there is the sparkling sanitized doorknob. The package of face masks is handy.
Mary Jane Ruhl, a long-time patient, walks up the shortened steps to the porch and sits down to take off her shoes before climbing onto the table. This is the first time she has had an outside appointment. "But it reminds me of a trip to Bali where they had people doing massage by the beach."
Shimberg says that when the pandemic was announced in March, most of her clients decided to discontinue coming due to the unknown of the coronavirus.
But Ruhl says, "I didn't miss a beat. I trust Lisa. She is so careful. All she doesn't do is dunk you in a barrel of hand sanitizer."
Shimberg works on all parts of Ruhl's body, and Ruhl has come today for pain in her left hip and knee and neck. "I come for her magic hands and her ability to move energy and balance me out." Ruhl has fibromyalgia, and Shimberg says Ruhl is a little more sensitive so she uses a soft touch on the soft tissue mobilization.
Shimberg says when the stay at home order was issued in mid-March people started calling to cancel. Her load went from full time five days a week to half time three days a week. She says even though physical therapists were deemed essential workers and never shut down, her business has been cut back to 25 percent. "These people aren't even going to the doctor."
Her patients have ranged from recovery after shoulder, hip or spinal surgery to muscle inflammation or chronic care patients who need continual work to maintain their body so they can be functional.

She has a patient she has been treating since 1999 once a week for fibromyalgia. "And I have treated the children of patients for tendinitis around the elbow for a softball pitcher, or knee and ankle treatment for a soccer player."
Shimberg has done some tele-health appointments such as a recent knee evaluation. "I gave her exercises and hopefully it will get better. I would rather have seen her in person but she has gone nowhere for four months." If she gets a new patient she screens them carefully to see where they have been the last few weeks — just the grocery store or large groups of people. If they have just been to the grocery store before their appointment, "I ask them to change their clothes before they come. I have to protect my other patients as well as myself."
Shimberg started Healing Works Physical Therapy in Arlington in 1997. "I had worked for the Federal government but I didn't like to sit at a desk all day and deal with bureaucracy." She explains, "I like working with my hands and my head. I like to see the progress of my patients getting better." She says there were so many layers in the government before you could see the success of a project.
So she attended Shenandoah University in Winchester and then worked as a traveling therapist in Maine and Ohio. Now she is independent and can follow her own vision.
"I like helping people, talking to people. I love to see patients recovering from surgery and leaving."