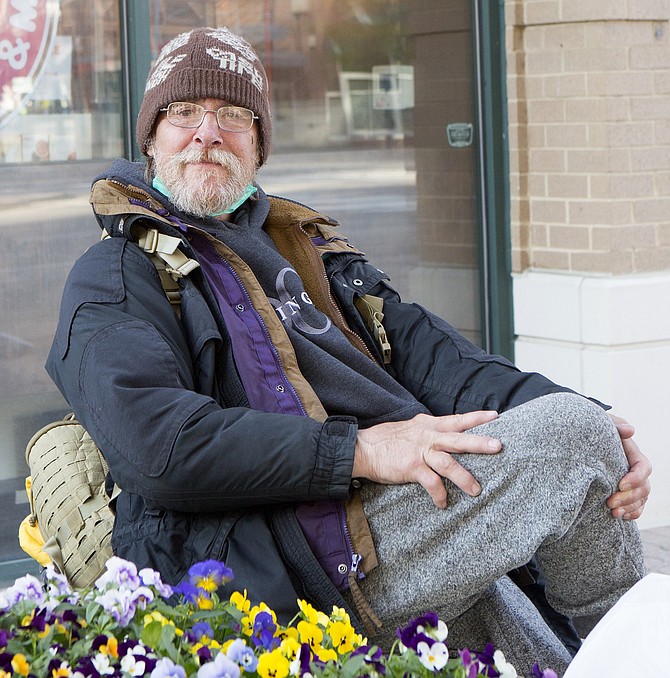 In my neighborhood, most people walk the streets without masks. And there has been much discussion in my own household about the use of masks. We live in an apartment building. I think we should be wearing masks in the hall, elevator and lobby.
For long walks though, I find it hard to breathe with a mask on. So, Saturday, as I walked the streets, my face was bare to the warm spring sun. And for a few moments, looking up at the sky, it was like any other lovely spring day.
Just after passing the corner of Wilson and Veitch a man called out to me and it was back to our new reality. I glanced over, doing my new kind of quick risk assessment; homeless man/virus risk. With every person on the street now viewed with suspicion, I flashed on what it must like to be homeless right now. I moved closer, eyeballing my six feet of social distance.
He looked squarely at me, perhaps the only person to have done so on my 3 mile walk. Haltingly, he started to speak, not making much sense at first. Until finally, "I'm having a time right now," he told me, his bright blue/green eyes welling up with tears. "I served 8 years in the Marines. But no one cares about that now."

I thanked him for his service and asked if things were worse as a result of the virus. He continued, following his own thoughts. "I played in a band. I was famous." I believe he said as a drummer, but he might have said trumpeter. Six feet turns out to be a lot of distance to hear clearly in the wind.
He told me his name was Will and I introduced myself as well. What he really seemed to need was a hug. Instead, I asked if I could get him something to eat and/or drink. He gestured to a Giant bag with a prepared meal and pulled a wad of cash out of his pocket to show me. Nothing more was needed.
Our chat was briefly interrupted by a couple who reached toward Will, handing him some money and wishing him good luck. He accepted the money and thanked them as they hurried on.
"You see," he told me, tears spilling over, "I have money… But money isn't everything… Sometimes you need conversation."