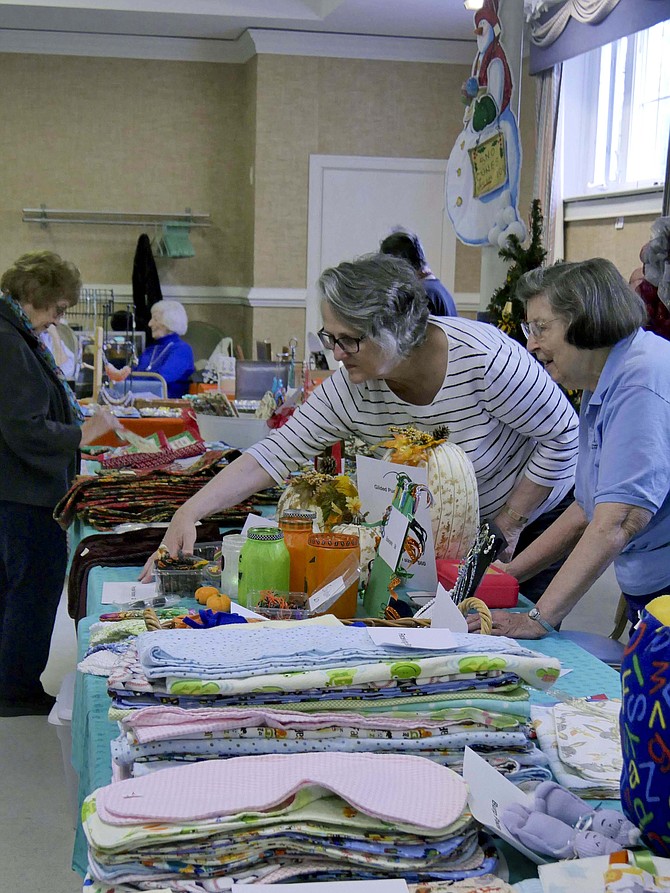 Amidst two bar stools, a Eureka vacuum cleaner and a white lampshade, two men stand discussing whether they really need to bring home a new piece of furniture. Dwane Musser, a member of Walker Chapel manning the furniture at the Fall Bazaar, says, "it is a little slower than usual, but at least the rain has held off."
Inside the church in the fellowship hall, visitors sit at tables munching on hot dogs or barbecue platters while others browse through the crowded racks of clothing. Barbara Gordon has spotted a black and gold Christmas sweater "for when you have to wear something like this but not as bad as most of them."
A long table is lined with totes and handbags, baby changing pads, double- sided holiday place mats and full size throws. Dennisse Thomas, long-time member of Walker Chapel, says everything has been selling but especially the baby stuff.
Sweet tooth? Diehl's honey farm offers jars of "pure natural honey" right next to the bake sale table with gluten-free cookies, banana muffins, macaroons "and these are some double chocolate cookies that Walter made."
Down the hall pictures lean against the wall on the floor while tables are full of glasses of all sizes, candlesticks, mugs, knick knacks and a bag of multi-colored feathers.
Walker Chapel UCC is located at 4102 N Glebe Rd. The Fall Bazaar is an annual event, with all of the proceeds donated to charity.