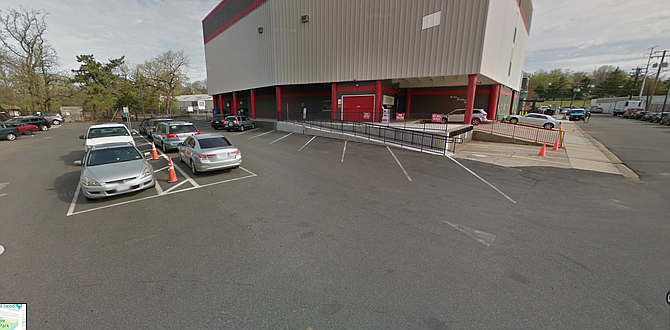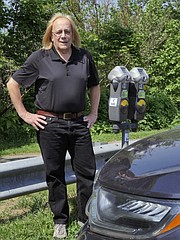 A large purple truck emblazoned with eggplants and tomatoes backs into the Arlington Food Assistance Center (AFAC) driveway in front of the headquarters on S. Nelson Street. The truck drives away and is quickly followed by another while volunteers carry 35-pound boxes of canned food down the street to their cars. AFAC clients are lined up in front of the building waiting their turn to fill bags with onions, fish, milk, eggs and pasta for their weekly supply of groceries.
Charles Meng, CEO and executive director of AFAC, stands in front of one of the newly installed paid parking meters down the street from the AFAC headquarters. "These were just put in last month." This is just one of the parking headaches facing Meng at the moment.
Parking for AFAC volunteers, clients and staff is already tight. Anticipated changes under the 4MRV redevelopment plan currently underway include elimination of Jennie Dean Park parking just down the block from AFAC, as well as increased competition for street parking from park users across the street.
In a letter to the Arlington County Director of Parks and Recreation on April 30, Meng says, "The reduction of available parking in the area of South Four Mile Run Drive, South Nelson and South Oakland Streets, and the increased demand for parking by park goers will negatively affect AFAC and neighboring businesses and homeowners." A petition signed by over 800 Arlingtonians and accompanied with 155 comments accompanied the letter.
Meng says on a day like Monday, May 20, AFAC will serve between 150-200 families who will come to pick up their weekly supply of food. Some of them will need parking. From AFAC's point of view, they will use 30-40 volunteers today who will be sorting and packaging food and will need to find a place to park close to the building. Until now, these spaces have been free. Volunteers work in three-hour shifts, but the new meters are for two hours. Meng says on average AFAC requires 75 parking spaces within a two-hour period.
Meng says because things are so tight. metering the parking spaces provokes illegal parking in handicapped spaces or double parking. If their low-income clients get a parking ticket, as some already have, it costs $40. Stephan Crimm, parking manager for Arlington County explains, "No one likes to pay, but the meters better accommodate people in the park encouraging turnover so they stay only the amount of time they need and businesses won't park in a space all day."
A number of volunteers are senior citizens and some with mobility issues. Comments attached to the petition sent to county staff include:
William Bates, an AFAC volunteer: "This change would heavily deter me from volunteering at AFAC."
Elizabeth Slanta: "Please do not deprive us AFAC volunteers of our parking spaces. I have volunteered with AFAC since 1981 and depended on parking near AFAC."
Danielle Paterno: "Arlington needs to start prioritizing its citizens and the organizations that perform a community service to all. As the neighborhood changes making transportation difficult for working class and low income people remains a shameful failing of our local officials."
Meng estimates after a cursory review that in excess of 50 parking spaces will be lost.
Lisa Grandle, park development chief, explains that parking on the west side of the park (adjacent to AFAC) will be eliminated but that parking will be retained on the east side of the park down by the shelter. She says the street parking on Nelson will stay. Grandle puts parking in the larger context of park design. Grandle says they had some challenges because they have purchased the WETA site but don't know when it will become available and had to design around it for now. They needed to address the stream floodplain, they wanted more casual space. "In the long run it will fit together nicely."
Meng cites another example of a piecemeal parking action taken by the county that causes major issues for his 18-wheeler delivery trucks. He says, the county restriped the street at the end of South Oakland and South Nelson Streets at the urging of an individual and without input from local businesses. As a result, the 18-wheeler food delivery trucks that allow AFAC to buy food wholesale in bulk aren't able to transit from one street to the other to make the deliveries to the warehouse. "We have 100,000 pounds of food."
Grandle says the restriping involves replacement of parallel parking with angle parking because it was a big open area and they were hearing from business owners that they needed more parking. She says that area is actually part of the park.
Crimm says the restriping was due to concerns about parking. "It's important that somebody can still get in and out. It may not be ideal for the AFAC trucks but if you are trying to balance needs .…"
Meng explains the Four Mile Run Task Force agreed to address the issue but handed it off to the Traffic Department. He says the issue still sits unresolved. Meng said each of the traffic decisions have been stand alone without regard to the larger picture. "I have urged a comprehensive approach."
Crimm puts the parking decisions in a wider perspective, He says parking modifications are always ongoing and a number of the changes in the Four Mile Run area have been related in time but were not necessarily incorporated in the 4MR redevelopment efforts.
These parking issues come amidst a much larger decades-long struggle to develop a revitalization plan for the Four Mile Run Valley 4MRV area in Arlington. It is an area of diverse interests including Jennie Dean Park, small industry, an arts community, the largest dog park, Arlington Food Assistance Center, the Shirlington Employment and Education Center (SEEC), Four Mile Run and the Nauck community neighborhood which is an African-American community predating the Civil War.
Each interest has its own needs and priorities. A working group was established three years ago and, after 30 meetings addressing often contentious issues, the county adopted a 4MRV working plan.
Meng says the proposed Master Plan is missing a vital analysis of the parking requirements for the various uses in the park under the county's zoning ordinances. "You would expect a zoning analysis in any development of this size. They must have done it, but I haven't seen it."
Robyn Stompler, community affairs chair for the Green Valley Civic Association located in the 4MRV area, discusses some of the changes that have been in the works for years. For instance, parking meters have been installed that have increased parking on Four Mile Run. She says after several years of working unsuccessfully with County Board and staff on common sense, easy solutions for parking improvements, these new changes work for the community, business and the arts.
Strompler adds, "In the first year or two the county agreed with our concept but took no action. Later they came out with a plan that sounded like it incorporated some of our ideas but without a lot of specifics. Then," she says, "in October 2018 they came out with a plan that was nothing like anybody wanted to see done. We were concerned. We kept talking to them and today we have parking that has been implemented and is working."
She says, "Now there is a much better flow; it is working for the residents. I can tell you I'm looking out there now and with the new configuration and signage there are dozens of spots available right now on S. Four Mile Run." She says the design phase for the park includes 4-5 back-in angle parking spaces just in front of the park that could be used for baseball drop-off and also for AFAC.
What next? Meng throws his hands in the air. Meng says he believes in taking things up the ladder and would prefer to see the county staff respond to this to see if it can be resolved without having to go to the County Board. He says the County Board has enough to do but so far he hasn't heard from any of the County Board members or staff on the issues he has raised.