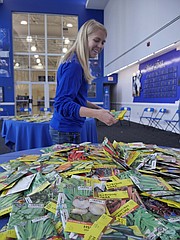 Volunteers fanned out across Arlington on Martin Luther King Day of Service on Monday, Jan. 21 with the theme of "Make MLK's birthday a 'day on,' not a day off."
Service and training opportunities were available to meet every interest. At Culpepper Garden, families roamed the yard removing invasive plants, while at Marymount University, participants learned briefly about homelessness and then prepared bagged meals for A-SPAN's homeless clients.
Both Bridges to Independence and Doorways for Women and Families held scavenger hunts to meet the needs of the clients served by their organizations. Offender Aid and Restoration held an introductory session and tour followed by writing Valentine's Day cards to about 400 of their supporters. The Arlington Rotary Club held another family-friendly event where volunteers made fleece blankets to support ASPIRE: Afterschool Learning.
If you felt comfortable using a power saw, you could build small bookshelves of children's books for Read Early and Often to give to the families of their partner organizations. This was the second year that Volunteer Arlington sponsored this day of service with nearly 1,000 volunteers signing up for service or volunteer training.
In 1994, Congress designated Martin Luther King Jr. Federal Holiday as a day of service and charged the Corporation for National Community Service with leading the effort. Each year the third Monday of January is observed as a way to empower individuals, strengthen communities and break down barriers.