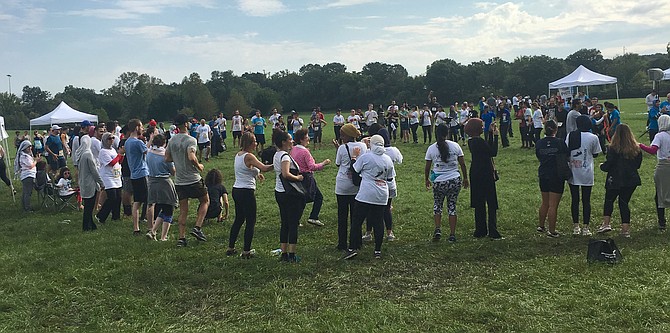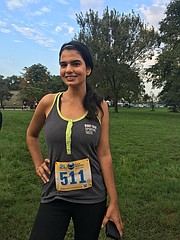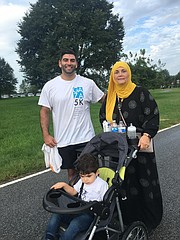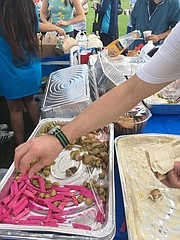 Arlington resident Janine Ali was standing at the starting line at the Gaza 5K race on Saturday morning, Sept. 22, to support her son and grandson. Ali is a Palestinian-American, born in Dearborn, Mich. Her son, Jehad Ali, now lives in Centreville. A 2002 graduate of Yorktown High School, where he was on the varsity football team, Jehad Ali reminisced fondly about his coach at YHS, Bruce Hanson, and wondered if he were still the coach there; he also remembered how, being at YHS on 9/11 meant he had to deal with some stereotyping, especially given his name. His son, Faris, almost 2, got up early to come to the race and was one of the youngest over the finish line.
The Gaza 5K was a fun, family friendly event with many families walking with strollers or running the 5 kilometers along the Anacostia Riverwalk Trail. The river was overflowing its banks in sections along the route. Despite the rainy morning, the atmosphere was like a family reunion — old friends reuniting, good-natured humor about fitness levels and stories of how summers were spent, a playlist of Arab hits blasting out over the muddy park. But there was also commentary about the U.S. administration's decision to cease funding for UNRWA, a relief organization which focuses on Palestinian refugee children.
Waliha Gani, of Fairfax, said she has always been passionate about the Palestinian cause although she is of Pakistani origin. She went to Palestine last month after teaching English in Qatar. That experience brought home the reality of the Palestinian people's suffering, so she wanted to raise funds for the children of Gaza. She also did "Teach for America" for a year.
Tysons Corner residents Zena Mikdadi, her son, and her sister, Lina Kanaan, came to the race to support UNRWA given the cuts in funding. The two sisters' parents were born in Nablus and Jerusalem, and when they were forced out of their land in 1948, they moved to Jordan to be close to home and to await the time when they could return. They refused to leave Jordan for the U.S. because they believed they would be able to go home to reclaim their land. Both parents died in Jordan. Kanaan was the last member of the family to come to the U.S. Her sister had petitioned for her 14 years earlier; that is how long it took for the immigrant visa to be approved.
The Gaza 5K takes place in several U.S. cities — Houston, Washington, and New York. Supporters from Fairfax, McLean, Vienna, Arlington, Centreville, and Reston came out to run and walk, dance the "Dabke," and eat a breakfast of hummus, olives, pickles and flat bread. There was an UNRWA trivia quiz for those who wanted to enter a raffle for a Palestinian cookbook. Participants were buoyant as they noted UNRWA, despite the U.S. defunding, would continue to be financed by other U.N. members and events like this fundraiser, which raised over $160,000 of its $200,000 goal to support mental health efforts for children in the war-torn Gaza strip. For more information, or to donate: see: https://getinvolved.unrwausa.org/event/2018-dc-gaza-5k.