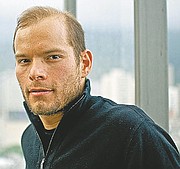 Eight days before the Oct. 20 concert which will open National Chamber Ensemble's (NCE) 12th season, Artistic Director/violinist Leo Sushansky broke his hand in a freak accident, leaving the Ensemble without a Concertmaster/Soloist. NCE violinist Jorge Orozco mentioned that his friend, internationally-acclaimed touring conductor Dietrich Paredes is also an outstanding violinist, lives in Washington, D.C. and might be in town. After receiving the urgent phone call, Paredes agreed to step in.
Paredes, music director of the Caracas Symphony Orchestra, will lead the ensemble in Vivaldi's Concerto in A Minor for Two Violins, Winter from The Four Seasons and Albinoni's Sonata a Cinque Op.2 No 6.
Sushansky will assume the role of conductor for the second half of the concert, when the Ensemble performs Pergolesi's Stabat Mater, featuring soprano Sharon Christman and Washington National Opera mezzo-soprano Anamer Castrello.
Ticket information for the concert, which will be held at 7:30 p.m. on Saturday, Oct. 20 at the Gunston Arts Center – Theater 1, can be found at https://nationalchamberensemble.org.