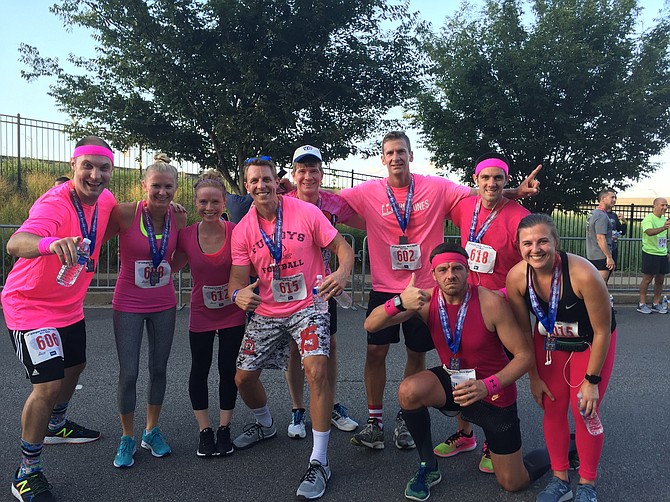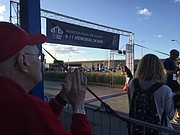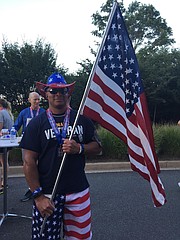 Cpl. Harvey Snook didn't hesitate. When the smoke started rising out of the Pentagon, Snook was one of the first police officers on the scene, having been fishing nearby. Like first responders in New York and Pennsylvania, Snook immediately went to work sifting through debris looking for survivors. He stayed for a week helping to mitigate the horror of 9/11, and in the process Snook contracted non-Hodgkin's lymphoma, a form of cancer. Fifteen years later, on Jan. 14, 2016, the cancer killed Snook. Before the Arlington Police, Fire & Sheriff Memorial 5k run, there was a moment of silence for Snook and all of the other victims of the terrorist attack 16 years ago.
The Memorial 5k run is an annual event that has raised over $700,000 for 9/11-related charities since it began in 2002. This year, the proceeds of the race on Sept. 9 went to the Pentagon Memorial Fund, Project Enduring Pride, and the National Police Suicide Hotline. The race course goes along the highway, around the Pentagon and past Arlington National Cemetery.
Joe Rockhill had been running the race for five years, starting back in 2012 when he was 71. Rockhill said he was doing a lot of running back then, but dedicated that one in particular to his brother, who had been in the military and had died. Rockhill also says the day makes him think of the son of his friend, a firefighter on 9/11 who died from cancer years later.
As the years went on, Rockhill faced more medical challenges and the races became more difficult. Last year, he ran with his daughter, Lisa Gaudette, but because of health complications he came in last.
"It was difficult, it almost killed me," Rockhill said. "But my daughter kept me going."
So this year, Rockhill stands right next to the finish line; watching for any sight of his daughter coming around the corner.
Those who finished the race gathered in front of the DoubleTree Hotel in Arlington drinking water and beer available after the race. Most said they believed the race this year was substantially more pleasant than last year, which was more humid.
"It was great," said Elyse Braner. "It is such a beautiful day. It's a great course."
Braner said as she was running, she kept thinking about the local first responders.
"We owe it to our first responder community to be a fraction as tough as they are," said Braner. "It's that 'don't give up' spirit."
Bryan McKnight is a chief inspector with the Drug Enforcement Agency. He's been away from the area for the last few years around 9/11 and said he was happy to be back and able to join in the race again.
"It's really a great cause," said McKnight. "Running by Arlington National Cemetery, you think of all the heroes, and it makes you push a little bit harder."
Some of those in the race ran in groups. Matt Gorman ran with a group of friends dressed in pink, calling themselves Wierditude.
"It was cooler than last year, and you can't beat the beer," said Gorman. "It's a great cause, and how often can you say you ran on the highway."
The highway was Chris Vanacore's favorite part of the race. He said it's different from running out in the woods; it exposes you to the city and causes you to reflect on what happened that day.
Another group running was a set of recruits from Fairfax County Fire and Rescue. After the race was finished, they gathered around to celebrate and do more push-ups. Some noted with a touch of concern that in two days they were going to have to do another five mile run.
"I'm a little sore, but it's good," said Kyle Knox, a recruit firefighter who ran with the rest of recruit class 142 from Fairfax County. "There's a lot of folks in our department that responded to the attacks. We're working alongside living legends, so we have big shoes to fill."
During the race, Marine veteran Charles Bowman said he was focused on just making it to the finish line.
"We live in America: the greatest country on earth." said Bowman, who was wearing an American flag pants, hat, and carrying an American flag. "It's a special race. I was 12 when the towers were hit. That's ultimately why I joined the Marines: a love and passion for this country. [This date] has been of big importance in my life."