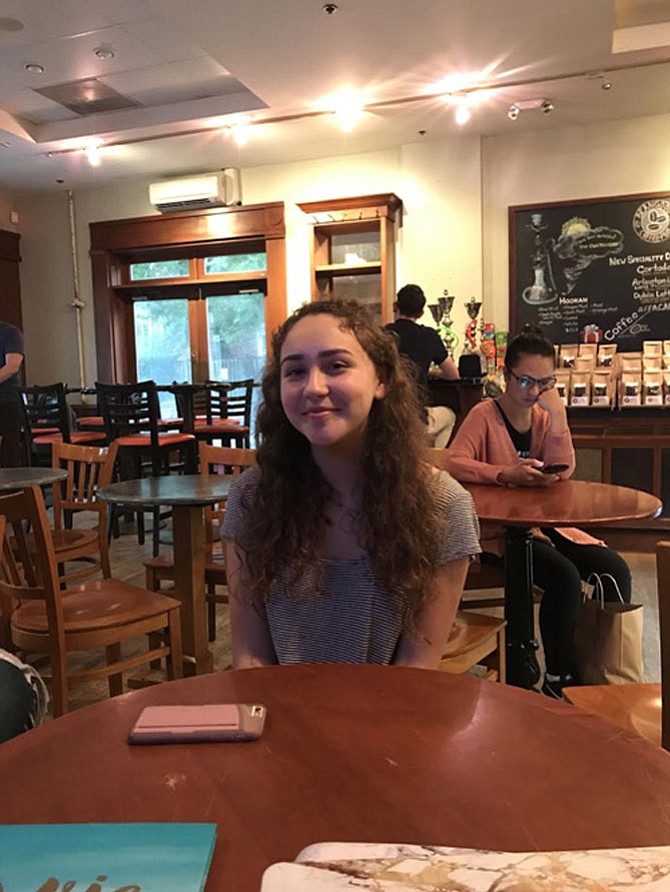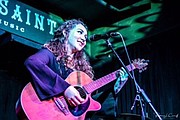 For people who prefer the music of the '60s and '70s , they can find a kindred spirit in young up-and-coming singer-songwriter Calista Garcia. An Arlington native, the 16-year-old has performed more than 100 gigs in the northern Virginia area, and written more than 100 songs influenced by her favorite artists, such as The Beatles and Hozier.
Not only have her vocal talents and songwriting capabilities captured the attention of the Washington, D.C. metro area citizens, but nationwide as well. Garcia is one of 119 high school students who have been selected to attend a Grammy Camp, hosted by Belmont University and University of Southern California's Thornton School of Music, from May 30-June 4. She and 11 other teens have the opportunity to learn the ins and outs of the music industry, and perfect their areas of interests.
"It's really crazy." Garcia said about the Tennessee-based camp, "I didn't think I was going to make it, honestly. It's really cool." At the camp, students can choose from four career tracks to focus on during their six-day program. Some may prefer audio engineering, vocal or instrumental performance, however, Garcia picked songwriting. She also hopes to "gain connections and skills, and learn more about the [music] industry," as well. To attend this camp, Garcia, a rising high school junior, will have to miss out on a week of school, at H.B. Woodlawn in Arlington, but for the singer-songwriter who has been performing at least one gig every two weeks for the last couple of months, learning how to balance school and her career, has become second nature. Of course setting time for homework and her studio sessions means that Garcia has to give up a couple of things, one of them being high school theatre.
"I used to do more theatre at my school, but I haven't been able to do as much of it, I can't stay for rehearsals." Despite this, she has still been able to contribute to her school's arts program by creating music for the theatre's musical that found its way onto the music streaming app, Spotify. Not only does she balance her career, her academics, and theatre, but she has also been a part of her school's Songwriting Club since June 2015. Run by H.B. Woodlawn teacher, Daniel Paris, who currently teaches Garcia in a songwriting class offered at the school, Paris considers Garcia a "natural frontwoman," and that she has "great banter with the crowd" when performing live.
Paris began teaching Garcia in September 2016, and although he believes that she has improved since being in his class, he does not believe it was due to his teaching. "She has improved since working with me, but not because of me. I just enable, encourage and help record. She doesn't require my assistance to be successful as a songwriter. I just stand back and let the magic happen."
While Garcia may describe her music being "versatile, artistic-based" and having a "folk side" to it with a "pop element," Paris was more hesitant to describe her music. "Not to slap a genre label, she can stretch her own boundaries." He said. "She can write a fun song, I've heard her write great rock songs."
Rock isn't such a far description of her music. Her father, Juan Garcia, an avid rock fan, passed down his passion for music, and the guitar to his daughter. Furthermore, she holds rock artist Stevie Nicks as one of her inspirations for her sound and lyrics, along with Alanis Morissette.

Her mother, Denise Garcia, also played a role in her daughter's creative growth, and said that, "You know how some people don't know what they want to do? From a young age, it was so clear that [music] was what she [Calista] was focusing on. It just kind of comes with her."
Sooner rather than later, Garcia fans will be able to hear just how focused she is in regards to music. She won the 2017 Bernard /Ebbs Young Songwriter of the Year Award in Bethesda, Md. in March. Performing at the Live Well Loudon Festival back in April and at the Parallel Wine Bistro in Broadlands a month ago has led to the upcoming release of her EP. It'll be accessible to anyone with an Apple I.D., and listeners will be privy to the artist's self-written ballads, her favorite songs, and recordings she has compiled over the years.
Garcia's EP will give the young singer-songwriter the chance to show others the potential her family and teacher believe she has. "She [Calista] has a number of songs that if you heard it on the radio it would not be out of place." Paris said. "If it were available on iTunes one would buy it happily. I truly hope she is successful because it seems like something she would hope to do. Her songs speak to people."