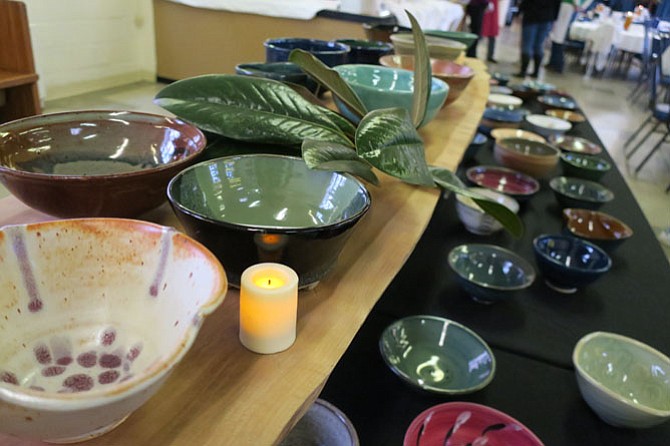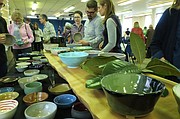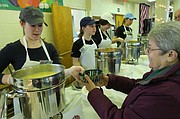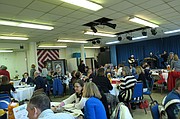 For the fifth year, area ceramic studios and restaurants joined forces with the Arlington Food Assistance Center (AFAC) for its annual Empty Bowls fundraising event. The fundraiser took place at St. Andrew's Episcopal Church Sunday, Feb. 5.
AFAC's Empty Bowls event, like many around the nation, is based upon the concept of using art as a way to connect with those in need. Specifically, the hand-crafted ceramic bowls serve as a reminder that there are those in the community who cannot always afford to fill their own bowls or those of their family members.
According to Puwen Lee, AFAC's associate director of programs, the bowl serves dual purposes.
"It's something that [attendees] can take home and love, but they also have the bowl as a remembrance," Lee said.
On Sunday, approximately 250 members of the Arlington community and beyond traded a pre-purchased ticket for an original ceramic dish made by area artists which they could then fill with hot soup provided by local restaurants. They then got to sit down at community tables and enjoy a meal with friends, family, and neighbors.
For some, attending Empty Bowls has become an annual tradition.
"I've been coming as long as I can remember," said Arlington resident Wes MacAdams. "I come for the fellowship, the great food, for the cause. You get to help yourself by doing good."
Many others had come for the first time. Laurel Glenn of Alexandria came to the event after hearing about it from a friend who volunteers with AFAC.
"I hope it's the first time of many times," Glenn said. "It's a wonderful organization. They provide food for the people who need it."
While food drive donations are a boon to the services provided by AFAC, the funds derived from events like Empty Bowls and AFAC's upcoming spring gala, "A Light Exists in Spring," are essential to providing for the roughly 2,200 residents who are served by the nonprofit.
"About 40 percent of the food is donated," Lee said. "The rest needs to be purchased. We can purchase food at a much lower cost." Lee added nutrition is also another major factor and that by purchasing food, AFAC is able to better monitor the nutritional value of the food distributed. It is also necessary for them to purchase almost all perishable food such as meats, dairy, and fresh vegetables.
While the primary goal of Empty Bowls is to benefit those served by AFAC, the event recognizes the work of area ceramic artists as well. Studios such as Lee Arts Center, Alexandria Clay Co-op and Thomas Jefferson (TJ) Community Center Art Studio provided the bowls. Work was also donated by local high school and college art departments, including those at Washington-Lee High School, Episcopal High School and Marymount University.
"Empty Bowls helps us to focus on a common goal," said Steven Muñoz, director at Lee Arts Center. "It is a unique event that helps bring the community together through art, a bowl of soup and the desire to fill the empty bowls of our neighbors in need."
Homer Ailstock, studio technician at TJ Art Studio, appreciates how the event highlights that hand-crafted ceramic vessels are both functional and deeply meaningful.
Ailstock emphasized the relevance of ceramic arts in today's society. "We are living in an era of mass-produced plastic products and instant gratification," he said. "The process of making pottery is about patience" and the resulting vessels "can be used over and over" and have "more value. Not monetary value, but real value."
Participating restaurateurs also enjoyed the sense of togetherness and shared responsibility brought about by the event.
Grace Shea, who co-owns the Lebanese Taverna family of restaurants with her siblings, is an AFAC board member and Arlington resident. Decades ago, she and her family came to the Westover neighborhood as immigrants. They founded their first restaurant there 37 years ago. They now have almost a dozen restaurants and cafes in the Washington area. Lebanese Taverna provided lentil soup for the event.
"Food is our business, but it's also our mission," Shea said. She emphasized how special it is to be able to "come together and break bread" with "the town we grew up in and started our business."
Jason Kaufmann, head chef at the Carlyle, came with his son to help in the kitchen. They also brought along his signature lobster bisque, which was a crowd favorite.
"Our restaurant is community first," Kaufmann said. "[Empty Bowls] is a great opportunity just to help and give back."
As attendees ate soup and chatted they listened to the music of Simon's Junction of Reston. The trio played traditional celtic and folk music on violin, hammer dulcimer, guitar and mandolin.
Before the afternoon was over, AFAC Executive Director Charles Meng spoke about the unpredictability faced by Arlingtonians in the coming years, especially those who risk being marginalized.
Nonetheless, he reassured the crowd that AFAC will continue its mission of service to the community, emphasizing that "if you are hungry in Arlington, we're here to help."