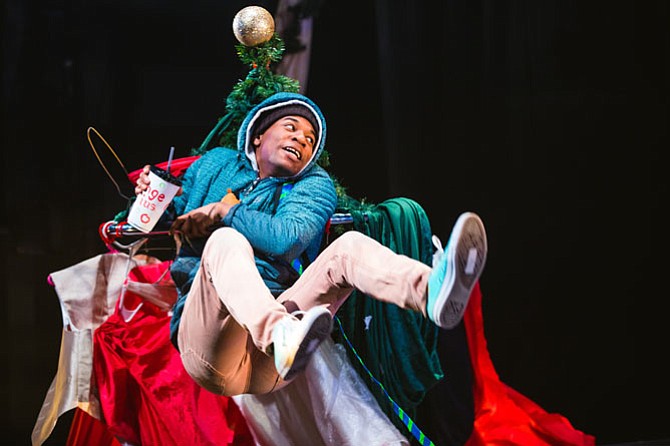 Synetic Family Theater in Arlington is presenting "Hansel and Gretel" from now through Dec. 23. During the bustle of holiday crowds, Gretel tries to keep her brother, Hansel, out of trouble while their unengaged babysitter leaves Gretel to fend for them both. As Hansel embarks on his own exploration of his everyday surroundings, he and his sister fall into a magical realm that takes them far away from home. In this wordless production, the Grimm fairy tale embraces the fantastical through the eyes of those who see the world through a different lens.
Co-directors Tori Bertocci and Elena Velasco said although the original Brothers Grimm tale focuses on the dark sides of family and life, they wanted to explore how perspective shapes relationships.
"Gretel and Hansel survive because they rely on each other, but, as we know, relying on a brother or sister isn't always easy. We grow up together, but become different people. This can become even more pronounced when one sibling processes the world in a drastically different way than others expect," they said.
"As both theatre artists and educators, we know that children of all abilities have gifts to offer the world. We also know that society doesn't always value the unique perspectives of children whose development is atypical. We — educators, adults, family members — don't always know how to accept challenges in communication or interactions that require a different type of process. Hansel is that boy, and Gretel must be the one who learns to accept who her brother is," they said.
Sharisse Taylor is playing the role of Gretel, who is young but prides herself on being responsible. "She seeks approval for being mature and well mannered. A good amount of her time is spent looking after her brother. While she loves him dearly, she does need to start living a little because she's just a kid," she said.
She said the show is fast paced so it's easy to try to jump from one story beat to the next. "It was difficult (but necessary) to find the moments where the characters stopped to live in the moment," she said.
Raven Wilkes plays several roles: the babysitter, witch and puppeteer. "Most of my characters in this show are puppets, all with different shapes, sizes, and usage," she said. "With all of that comes many challenges; the primary being how to show each puppet's personality and unique characteristics in the world of the play in order to enhance the story."
She continued, "Not only am I not allowed to use text or dialogue in the wordless show, I also am unable to communicate in a human way with common gestures or most movements. I have to change my entire body in order portray each of these very special characters. It's marvelous and fun. But it is certainly tiresome work that requires a lot of attention to detail and specificity."
Synetic Family Theater in Arlington is presenting "Hansel and Gretel" from now through Dec. 23. Show times are Thursdays through Sundays at 11 a.m.; and Saturdays and Sundays at 2 p.m. Tickets are $20. The venue is located at 1800 S. Bell St., Arlington. Visit www.synetictheater.org.