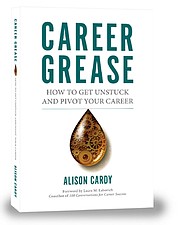 For many individuals, making a career change can feel like a being on a never-ending road trip.
Arlington career coach Alison Cardy's new book "Career Grease: How to Get Unstuck and Pivot Your Career" gives readers a road map to changing careers.
Cardy delves into the reasons individuals get stuck when they are making a career change and how to get unstuck using the techniques that she has honed in her own career coaching business.

"The title, 'Career Grease,' is very much to imply that we're going to get you unstuck. We're going to show you why it is that you are stalling in this place," she said.
The book's first three chapters provide reader with an overview of the career-changing process, covering topics such as how to know if you are ready for a career change, why career changes happen in the first place, and an overall landscape of the career-changing process.

Each of the remaining chapters focus on a particular area where individuals get stuck such as dealing with coming out of a bad work situation, having an unsupportive social environment or how to deal with the financial components of making a career change.

Since many individuals she sees often think about starting their own business, she also included a chapter focused on how she started her career counseling business.

The final chapter presents readers with some tips for getting through the career change process.
"It is targeted to people who have been immobilized by making a change. My hope is that they can actually make the change they have been looking for. They will be equipped with the tools to complete their goals," she said.
According to Cardy, many individuals remain in a "stalled or rut" state when it comes to making a career change because they believe they have to "think their way to a solution."

Sometimes, over analyzing can become a "big impediment" that keeps individuals from making actual progress in their career change. "Your brain is a helpful tool but it doesn't know it all. You have to go out into the real world and explore conferences and events in order to move closer to career areas you are interested in. Opportunities in the career world always flow through people," she said.

Many career changers also face overcoming negative thoughts about themselves and their career possibilities. Cardy and her team of career counselors use a form of Cognitive Behavioral Therapy to help clients transform their negative thinking into something more proactive. "The first thing is to notice the negative thought and how that mindset is affecting you. That's where a career counselor can be really helpful because they provide an objective perspective and point out these thoughts," she said.
With seven years in the career-counseling field, she incorporated a number of real life experiences along with excerpts from her blog into the book. Readers can purchase the book through Amazon. In addition, they are eligible to sign up for a free e-course through the Cardy Career Counseling website, which includes weekly emails with effective tips for career changers.

Writing "Career Grease: How to Get Unstuck and Pivot Your Career" also gave her the opportunity to explore the other factors that influence an individual's choice to make a career change outside of personal fulfillment, which include the need for financial security and personal time and wellbeing. "I see these three areas as circles in a Venn diagram. The goal is always to help [people] come up with a career plan that will give individuals the most of what they want in those three areas," she said.
In her journey to becoming an entrepreneur, Cardy made her own major career change. After years of working as an accountant, she realized that it was not the right fit for her but struggled to find her true passion. She found her true professional calling while serving as a volunteer at CrisisLink, a mental health and suicide hotline, in Arlington.
Eventually, she decided to become a career counselor and attended the Martha Beck Career Coaching Program. She then opened Cardy Career Counseling. Currently, she is working on putting together a national book tour starting this fall and hopes to do some appearances in the local community.
Originally raised in Silver Spring, Md., Cardy and her husband moved to Arlington for the proximity to the D.C. and the area's walkability eight years ago. She enjoys visiting Potomac Overlook Park and the Arlington Art Center. In her free time, she participates in a variety of athletic activities including being a part of an Arlington women's soccer team, yoga and Crossfit.