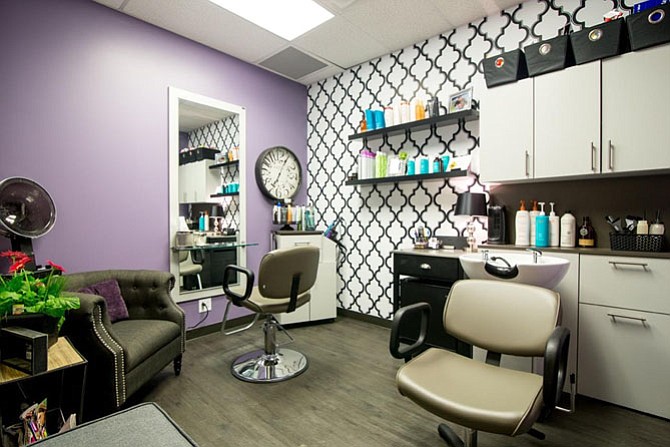 Any Arlington resident that either drives or strolls through Ballston knows the neighborhood is booming. It's an area of Arlington that rarely – if ever – sleeps.
Starting in January 2017, the Ballston neighborhood will also be a hot spot for people looking for a beauty or wellness treatment — from haircuts to massages. The soon-to-open Ballston location of Salons by JC, a national franchise, will offer local hairstylists, cosmetologists, estheticians and other wellness service providers a way to perform their specialties to their own customers. Salons by JC leases suite space to specialists who want to pursue their craft on their own terms, but are not able or interested in running their own full-fledged spa or salon.
"My primary goal is to help as many salon professionals as possible to take control of their professional life…"
— Dean Coulopoulos
"After a lot of perseverance and hard work by its founders, Salons by JC opened its doors in 1998 in Dallas, Texas, welcoming beauty and wellness specialists ready to break free from the traditional salon model," said Drew Johnston, Salons by JC vice president of operations.
Salons by JC franchise owners offer opportunities all over the country for professionals to take a space, make it their own, and conduct business based on what they do best.
"Salons by JC empowers beauty and wellness professionals with salon suite rental opportunities, and provides them with all the tools they need to operate a business tailored to their strengths and areas of interest," Ballston franchise owner Dean Coulopoulos said.
Today, there are more than 50 Salons by JC locations across the United States and Canada. According to Coulopoulos, his will be the first salon suite inside the Virginia beltway. He is looking forward to helping a multitude of local stylists achieve their dream of owning their own business.
"My primary goal is to help as many salon professionals as possible to take control of their professional life and gain their independence from their current employer in order to improve their professional and personal lives," he said. "I also hope to earn a reputation as a vibrant retail business within the Ballston market that provides convenient 'one stop shopping' for local residents and workers in the Rosslyn-to-Ballston corridor and beyond. If I am successful in doing this, then I will have a successful business which I plan to extend to other locations."
While Coulopoulos himself has never worked for a spa or salon in any capacity, he recognized the potential of the salon suite concept immediately when a franchise broker introduced him to Salons by JC.
"I had decided to go into business for myself and began looking for the right opportunity," Coulopoulos said. "I was attracted to a franchise business based on its proven business model and superior corporate support. I felt that this combination would give me the best opportunity to own a successful small business."
Coulopoulos has more than 30 years of experience managing financial functions in a diverse range of domestic and international organizations, including hospitality and technology companies. His lack of a beauty and wellness background, however, has not prevented the new franchise owner from generating interest in his new salon suite business.
"We are scheduled to open in January 2017," he said. "Tenant response has been very positive, and I have signed a number of leases already, including one before I even started construction. I expect many more leases to follow from our pipeline once construction nears completion toward the end of December."
Coulopoulos and many of his clients share a goal — to be able to finally run their own business, with the potential for more flexible hours and higher incomes.
"Today, the salon professional works in a traditional salon or spa as an employee, they are told when to work, they are given a small work station in a large common area, and they earn only about 50 percent of the revenue they generate for the employer," he said. "In a salon suite, they work for themselves, they set their own schedule, they have their own private space which they can decorate to their own taste and style, and they keep 100 percent of the revenue they generate. Typically, they will earn significantly more income in a salon suite or work significantly fewer hours and earn the same income."
Arlington resident Kiki Nakajima, a wellness professional, has already signed on to work with Coulopoulos. An esthetician, she has spent years sticking to the rules of traditional spas and is ready for the opportunity to offer customized services to the people of Arlington.
"I have been fascinated with this industry since I was a little girl," Nakajima said. "I hosted imaginary spa days for my friends and I always dreamt of having my own spa. But, the cost of living in this city is just so high that you have to choose between a dream home for your family and opening a spa. It's very financially challenging to have both. With this model, I can have my own space, and I can create my own unique spa treatments without bearing the costs of opening an entire spa. Before this model, stylists and professionals like me would have to commit to leasing an entire building. That would be too much, but this is something I can commit to."
Operating her own suite out of the Ballston Salons by JC is a major step toward one day owning her own full-services day spa, and she is excited for the 2017 grand opening. Also, Nakajima will be able to use her knowledge of organic products and holistic treatments to benefit clients.
"Previously, when I worked at salons, the treatment menus were written by the salon owners," she said. The products I had to use were also chosen by salon owners. It doesn't give you much flexibility. In the past, for example, I had an owner who offered a cucumber extract for its relaxing properties, so there wasn't much I could do with clients who had a cucumber allergy. Soon, I'll be offering products that I've mixed myself. Allergy was always my biggest challenge in this industry, and the lines that the spas promoted really limited me from being able to help so many people."
For the past few months, Nakajima has been diligently preparing for the business she will be running out of Ballston, which will be called "Mon Rituel."
"'Mon rituel' means 'my ritual' in French," she said. "I've always thought that everything sounds so beautiful in the French language, and the phrase represents what I believe is so important for a spa to provide — custom wellness plans tailored to every single person that comes in. Skincare regimens are different for every person and they will change at different times for every individual. It's like aromatherapy — what you're drawn to every day is different. Or, it's like a wardrobe. You can't keep the same skincare regimen in the summer and in the winter. It's a ritual, but customized."
Another benefit of the Salons by JC model for Nakajima is that she will finally be able to practice regimens that the spas she worked for did not give her the freedom to do.
"My professional license allows me to do body treatments in addition to facial offerings," she said. "That's actually what my passion is. But many spas don't offer that. I'd get clients that had issues with their back acne, for example, but there wasn't anything that I could do. Now that I'm on my own, I can offer a solution to those problems."
Both Nakajima and Coulopoulos are confident that Arlington is the perfect place for a Salons by JC franchise.
"People here are very educated," Nakajima said. "People in Arlington tend to be aware of what they are consuming, and what the ingredients are in the products they put on and in their bodies. I avoid chemicals and invasive treatments, and people appreciate that here. I want to educate people further on what's going on with the industry, too."
Coulopoulos added that his new business will be a benefit to everyone involved, including local residents and businesses.
"I am passionate about helping others. I have volunteered in a variety of places the past 30 years — including serving on the board of my homeowners association, on the executive board of my church, on the alumni board of my graduate university, and as mentor to undergraduate students and junior colleagues at work," he said. "Salons by JC is another twist to this passion, where I will help salon professionals take control of their professional lives and improve the personal lives of themselves and their families. I cannot think of anything else that I would rather do professionally, and I am excited each and every day to wake up and work on building this business."
Beauty and wellness professionals interested in opening their own business in Ballston can contact Coulopoulos by calling 703-282-2178 or emailing deanc@salonsbyjc.com.