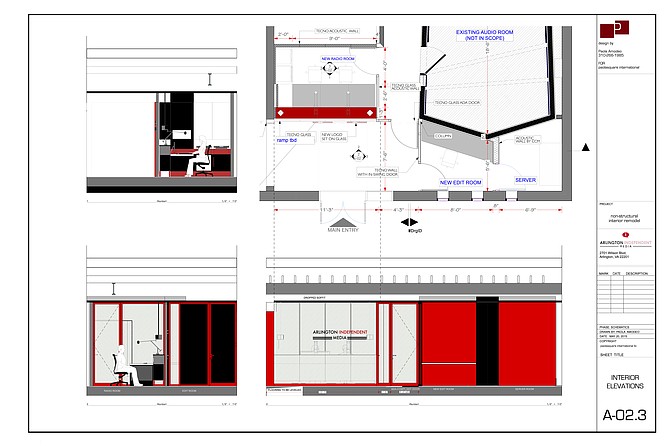 Paul LaValley is astonished and happy to be wrong in his assumption.
The executive director of Arlington Independent Media wasn't sure if people would share his high level of enthusiasm about the organization's new undertaking, the launch of a low-power FM radio station later this year. After all, the popular opinion is that radio is dying, falling out of favor as a way to get music and information when people can find whatever they need online.
Instead, he's seeing the same sparkling excitement shared by the staff and board members at AIM and hearing stories in the community about the power of radio.
"There's no digital divide like there is on the Internet or cable TV" when it comes to radio broadcasting, he said. Most people have radios in their homes and in their cars, making it a platform accessible to everyone, regardless of income. And when the station launches, by Dec. 9, it will be radio by and for Arlington residents.
The programming, which will include a variety of shows and features but is still under development, will reflect "what it means to be in Arlington now," he said.
"No matter who I talk to, people always want to do a radio program. People just love that idea."
— Paul LaValley, executive director, Arlington Independent Media
The past few years have been one of growth and upgrades at AIM, located just off Wilson Boulevard between Clarendon and Courthouse. Two years ago, the television studio upgraded all its cameras and production equipment to become a state-of-the-art, high-definition facility, and earlier this year, they opened up an audio production room for podcasts, voiceover work and other audio projects. That means AIM is now offering audio recording and editing classes in addition to its video production and editing options for in-studio and field work. Combined, the audio production suite and radio station construction represent an investment of roughly $400,000 in AIM's facilities, LaValley said.
When the Federal Communications Commission announced it was making available a few low-power FM broadcasting licenses, a committee was formed from members of AIM's board of directors to debate whether it was something the studio should pursue. The station will have a 3.5 mile broadcasting radius.
"AIM seemed just about perfect" as a candidate to sponsor a license, said Andy Rosenberg, a member of AIM's board and chair of the committee working to develop the future station's content. "It took about two years to hash things out."
With a background in radio himself, Rosenberg and the committee, the 11-member Program Advisory and Review Council (PARC) are holding regular meetings to shape the future broadcasts that will run on WERA, 96.7 FM, as the station will be known.
Unlike the television broadcasts that air on AIM's station and YouTube page, consideration has to be given to the content that will appear on WERA. The FCC regulations that apply to commercial radio stations will apply to WERA, which means language must be clean and certain rights must be obtained for any music that will be played during broadcasts. PARC also will be looking for content that will appeal to a broad range of Arlington residents of all ages and walks of life, further embracing the ideology that the station will reflect and be dedicated to the community it serves.
When he was growing up, LaValley said he loved listening to Clyde Clifford's "Beaker Street" program from the AM station KAAY in Little Rock. "It was a 10,000-watt station you could hear from Little Rock to the Canadian border," he said. "Everyone in the Midwest listened to that," creating a shared experience for hundreds of miles. The program later moved to an FM station in the mid-1970s as that platform grew in popularity, and the host would use sound effects to punctuate stories and gaps between songs on the air.
As he spoke with people in Arlington about the possibility of launching a radio station, LaValley said many people shared their own stories of favorite radio programs or broadcasters. Many also shared their own stories about broadcasting, recounting their time as a DJ for their college radio stations.
"No matter who I talk to, people always want to do a radio program," he laughed. "People just love that idea. There's something about broadcasting that has a lot of cachet."
The programming for WERA will be available online as well, but there's something special about radio, he said. "We also find value in things that are geographically based," he continued. "The Internet is worldwide. You kind of leave the space you're in and join a worldwide community of people. But you're losing a sense of geography," something locally operated and designed stations can provide.
He adds that the station's antenna likely will be placed at 2300 Clarendon Boulevard, near the Courthouse Metro station. Thanks to a partnership with Arlington Office of Emergency Management, WERA will carry emergency broadcast information from the police and other first responders in the case of large emergencies or disasters, another public service for the community.
Construction has begun on the radio station, which will be located in the front of the AIM building and will feature a glass window so people walking in can see the on-air host, much like WTOP's famed Glass-Enclosed Nerve Center, though not as large. The audio production suite, located in a soundproof room in the middle of the building, allows for the creation of pre-recorded content that can be broadcast later.
Offering radio programming is a natural progression in AIM's mission, said Jackie Steven, AIM's director of community programs, and Lauree McArdle, AIM's operations manager. And while it may seem to people on the outside that the evolution has come quickly, it's been in the works for quite some time.
"Even before I started here, the transition from Arlington Community TV to Arlington Independent Media" indicated the organization's interest in offering expanded and multi-media services and education to the county, McArdle said.
"ACT pigeonholed us to just one type of media," Steven agreed. There was always an interest in pursuing other forms of media, and advancing and improving technology helped speed the process.
Moving into radio has always felt like an addition to what AIM's television station provides, in addition to a way to get more people involved at AIM and in the community, McArdle said. "Not everyone wants to be in front of a camera. The radio station provides an opportunity for members of the community to have their voices heard even if they're camera shy."
She admitted there's some nervousness now that the station is so close to becoming a reality, with tight schedules to follow and deadlines to meet in order to abide by the FCC's order to be on the air by Dec. 9. There's no doubt, however, that everything will be in place and ready by then.
"In our 30-year history, we've pulled off a lot of stuff," Steven said. "It can be aggressive and stressful, but we've succeeded in all our endeavors to this point."
Learn More
For more information about Arlington Independent Media, its soon-to-be-live low-power FM radio station, WERA, and a current schedule of classes, go to www.arlingtonmedia.org.
More like this story