Synetic Theater is remounting Shakespeare's "Hamlet … the rest is silence," the abstract and wordless show that struck gold for them in 2002 when it debuted in Washington. This silent rendering stars Alex Mills, 24, as Prince Hamlet, Irina Tsikurishvili as Gertrude, Iraakli Kavsadze as Claudius and Irina Kavsadze as Ophelia.
To help celebrate the Bard's 450th birthday this year, Synetic took an abstract approach to the tragedy set in Denmark by using sparse sets, minimal props (originally by Georgi Alexi-Meskhishvili), dramatic lighting design (by Brittany Diliberto), minimal black-and-white costumes (Claire Cantwell) and intense sound design (Irakli Kavsadze). Synetic is best known for fusing the classical elements of drama, movement, mime, dance and music.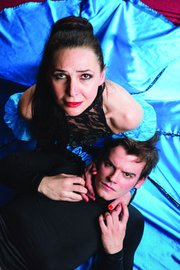 The storyline of "Hamlet" centers on the revenge the grief-stricken Prince Hamlet exacts on his uncle Claudius for murdering Hamlet's father, Claudius's brother. He succeeds to the throne and takes his wife Gertrude, Hamlet's mother. The play explores everything from incest to revenge to madness and corruption.
"'Hamlet' is my first baby. This was the first production I directed in this country, said director and Synetic CEO Paata Tsikurishvili, 47, of Potomac, Md. "'Hamlet' was how Synetic struck gold."
"And I wanted to bring it back to show people who haven't seen it," he said. "It's a simple production and very abstract."
He said that because of the nature of the genre and style of the production, he always compares "Hamlet" to an impressionistic life painting. He said, "When you take a look at a painting, it takes a long time to catch all of the details."
He wrote, "The actor's very being becomes the medium, music the paintbrush, the audience both the viewer and creator. The result is a living, breathing 'painting.'"
"I already directed, performed and produced other Shakespeare productions, and I wanted to give an opportunity to show people who haven't seen it," he added.
Paata, who hails from the country of Georgia, tried to capture Hamlet's internal world in this ensemble-based production. "Emotionally it was challenging and exciting because I had the opportunity to watch the show from outside and make corrections," he said.
His wife Irina, 42, who is Synetic's co-founder and who plays the mother Gertrude in this production and who played Ophelia in the original version, said that making "Hamlet" without words for the first time was a huge scandal in 2002, but has since become their trademark. "People loved it. So we decided to do one silent Shakespeare show per season," she said.
"I love the show. It is so different," she said. "And it works in your imagination. So it's really a different show from any other shows we've done at Synetic."
Working with Synetic's costume designer and creative team, Irina spent two weeks teaching the new cast the choreography, including the tango of Denmark's high society. "It's all symbolical and people are going to create their own conclusions based on their own experience," she said. "It's open for your own interpretation when you see this 'Hamlet.'"
Mills, who plays Prince Hamlet, said he wanted to bring a general 'youthfulness' to the most famous of Shakespearean characters. "He is a young man struggling with what it means to grow up and be thrust into this serious situation, and having to make strong decisions and struggling with identify."
He added, "I think I intended to bring this level of decision-making in what it is to be a man, and have that struggle be apparent, and have his conflict be there."
Mills, who lives in the District, calls Shakespeare an inherently fun challenge. "A lot of the scenes are symbolic, represented in a very abstract way," he said. "And that's fun as an actor to impart that in a very different way."
Mills said that because the show had been done by Synetic before, there was a lot of information and learning for him all at once, and he didn't want to copy another actor's work. "It was beneficial to me to find out the nuances of the character and that helped out a lot."
He said, "I'm performing the show that I know, but what the audience gets from it can be completely different and have a completely different take… and that's fun for me."
"Hamlet … the rest is silence" is showing through April 6, Wednesdays through Saturdays, 8 p.m. and Sundays, 2 p.m. Tickets are $35. Synetic Theater is located at 1800 S. Bell Street. Call the Box Office at 866-811-4111 or visit www.synetictheater.org.
A Young Professionals Night will be held March 19 and Pride Night will be held with Freddie's Beach Bar on March 26. Both events have $25 tickets that include a pre-show reception. On April 2, celebrate Shakespeare's 450th birthday bash at 7 p.m. with "Hamlet"-themed cocktails in the lobby.