Sharp as a tack and mentally "with it" as a younger person, Eleanor Bune, an Arlington resident, is not missing a beat. On March 14, she turned 96-years-old. With a full head of her own hair that often draws compliments from strangers, she had her hair done on her birthday and wanted to look her best for a night out on the town. Her birthday was celebrated at Essy's Carriage House in Arlington with her daughter, Karen L. Bune, and friends.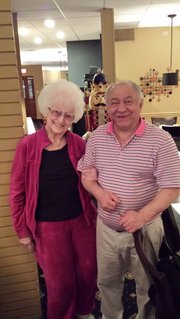 Essy, the owner of the restaurant, gave her a warm welcome. His buoyant and vivacious personality added to the occasion, and the delicious food prepared by his wife, Janet, satisfied everyone's palate for the festive occasion.
Mrs. Bune does not look her age. Most people guess her 15-20 years younger than she is. She enjoys good company, interesting conversations, and lively discussions. She reads the newspaper and keeps up with news and current events, and she enjoys time spent with her daughter, Karen.
"Every year before her next birthday, she says, 'if I make it.' I reply, Oh, mom, of course you will make it. On her birthday, I relish telling her, 'I told you so,' her daughter, Karen, said. She added, "I am so blessed to still have her in my life and enjoy every moment we share together."