Western Fairfax Christian Ministries (WFCM) believes people in the community can provide hope for local families facing financial hardships. Toward that end, it's launching its annual Bread and Water fundraising campaign.For any four-week period they choose between March and June, businesses, churches and other groups wishing to participate will receive water bottles to fill with coins, cash or checks (made payable to WFCM). Even a small amount of spare change — when added to all the other donations received — can assist WFCM in making a big difference in the lives of those whom it helps.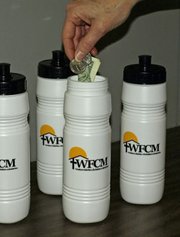 During Fiscal Year 2013 — thanks to contributions from individuals, churches and businesses, WFCM was able to provide a safety net for families struggling to make ends meet. Here's how:
745 households received a total of 26,747 bags of free groceries. * 374 households were given financial assistance for rent, utility bills, medical prescriptions and gas cards totaling $182,245. * Clients received free clothing, furniture and household items, as well as transportation to medical appointments. * 1,995 low-income students at 23 area elementary, middle and high schools received new backpacks.

1,319 individuals and families received meals at Thanksgiving and Christmas via WFCM's Holiday Food Program.
But it can't accomplish such tasks alone. Since it was founded 27 years ago, WFCM has depended on support from donors and volunteers so it can help people in need. And when the community opens its hearts and wallets, it enables WFCM to give the working poor, unemployed and fixed-income elderly residents encouragement to persevere toward self-sufficiency.
"We are committed to making the most of every tax-deductible gift to assist clients with food, emergency rent and utilities aid, clothing and household items, financial training, and a counselor's listening ears," said WFCM Community Outreach Manager Jennie Bush. "Of every dollar's worth of donations given to WFCM, 92 cents goes directly to client assistance programs. So contributions of any size are put to good use."And that's why, she said, the Bread and Water Campaign is "an effective, low-commitment way to help raise funds for WFCM's front-line work in the community. Those interested in participating should contact her at jbush@wfcmva.org to make arrangements to receive the water bottles and set up their four-week programs. In addition, anyone wishing to help by just making a donation may mail a check payable to Western Fairfax Christian Ministries to: Western Fairfax Christian Ministries, Attn.: Bread and Water Campaign, P.O. Box 220802, Chantilly, VA 20153.