For Justin Wolfe and his family, it's been one setback after another. So it pretty much came as no surprise to them that the Supreme Court last week declined to intervene in his retrial on drug and murder charges. Still, his mother couldn't help but hope.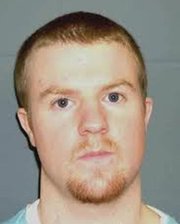 "It has been 13 years now that my son has been in solitary confinement for a crime he did not commit," said Terri Steinberg. "It is time for them to admit to their mistakes and let him go home. The money wasted on this case could be better spent elsewhere."
In March 2001, Centreville High grad Danny Petrole, 21, was shot and killed outside his Bristow townhouse. The crime involved drug-dealing and money, and the shooter — Chantilly High grad Owen Barber IV, who pleaded guilty — received 38 years in prison.
Largely on Barber's testimony, Chantilly grad Justin Wolfe was convicted of hiring Barber for the deed and, in June 2002, was sentenced to death. He also received 33 years in prison for drug and firearm charges.
Since then, because Prince William County prosecutors deliberately withheld information that would have impeached Barber's testimony, two federal courts vacated Wolfe's convictions and sentences.
Initially facing the death penalty, Barber testified he didn't know Petrole, but killed him because Wolfe hired him. It was later revealed that prosecutors and a detective influenced Barber to say those things in exchange for his charge being reduced from capital to first-degree murder. And Barber, himself, later recanted his testimony implicating Wolfe.
During a November 2010 hearing in Federal Court in Norfolk, U.S. District Court Judge Raymond Jackson heard evidence not presented previously. Subsequently, in his July 2011 decision to overturn Wolfe's convictions and sentences, Jackson said Wolfe's due-process rights had been violated before and during his capital-murder trial.



Jackson wrote that the commonwealth "failed to disclose evidence indicating Barber had a relationship with Petrole" prior to his death. This disclosure, he wrote — plus statements from a confidential informant that "Barber owed Petrole money [and] Petrole had a hit out on Barber" — could have impeached Barber's testimony.
Furthermore, prosecutors didn't reveal that, while first interviewing Barber, Det. Samson Newsome told him that implicating Wolfe "could mean the difference between execution or life in prison" for Barber. Jackson said the prosecution also didn't disclose that Barber told his roommate, Jason Coleman, he'd murdered Petrole on his own. But Coleman said so at the evidentiary hearing.
In August 2012, citing "prosecutorial misconduct" by Prince William County prosecutors Paul Ebert and Rick Conway, the U.S. Court of Appeals for the Fourth Circuit upheld Jackson's ruling. But with Fairfax County Commonwealth's Attorney Ray Morrogh as special prosecutor, Prince William County decided to retry Wolfe.
Nonetheless, in December 2012, Jackson ordered Wolfe's unconditional release and barred him from being retried. But Jackson's order was appealed to the 4th U.S. Circuit Court of Appeals in Richmond. And in May 2013, that court ruled Jackson had exceeded his authority when he ordered Wolfe's sentences vacated and Wolfe released and barred from retrial.
All along, Wolfe — who's already spent 13 years behind bars, 11 of them on death row — has maintained his innocence. But after a new date is set, he will once again stand trial in Prince William Circuit Court — this time on charges including felony murder and engaging in a continuous criminal enterprise.
Since being moved from federal prison to the jail in Manassas to prepare for it, he's appeared in that court for a variety of motions from his attorneys — and nearly all of them have been denied. For example, Judge Mary Grace O'Brien denied motions to dismiss the case on grounds of prosecutorial misconduct and also on grounds of impossibility.
During an October 2013 hearing, Newsome admitted to defense attorney Ed McMahon that he, Ebert and Conway visited Barber in prison in September 2012. "You knew they were going to tell him he'd breached his plea agreement and would face the death penalty again?" asked McMahon.
"Yes," replied Newsome. "They discussed it in the Commonwealth's Attorney's office."
McMahon — like Jackson before him — then argued that, because Ebert and Conway threatened Barber with the death penalty if he didn't testify against Wolfe in a retrial, "Barber's lost to Wolfe as a witness because he's now taken the Fifth. We see a pattern here. Is witness intimidation something the court can sanction?"
In November 2013, still more defense motions were denied, including one that would have precluded Wolfe's retrial for felony murder on double-jeopardy grounds. Then in January, defense attorney Kimberly Irving asked O'Brien to release Wolfe on bond until his trial begins.
"He has no violent history, was a longtime resident of Northern Virginia and has significant family ties to this area," said Irving. "It'll also better help his defense team prepare for his defense without the restrictions at the Adult Detention Center."
Several witnesses testified on Wolfe's behalf and a bail bondsman said he could put a GPS ankle monitor on him. But believing Wolfe to be a flight risk, Deputy Commonwealth's Attorney Casey Lingan said there's "a reason against the presumption of bond for these kind of charges. As someone who's been on death row before and knows he's facing the death penalty and, at best, life in prison, he has no reason to come back to court."
Agreeing, O'Brien then denied the bond request because of the capital-murder charge. Afterward, Wolfe's mother, eyes filled with tears, said, "It's what we expected. You don't expect anything, you won't get hurt. We just keep holding out for the next ray of hope, but Justin never complains — he's amazing."
That "next ray of hope" was Wolfe's appeal to the Supreme Court. But last Monday, Feb. 24, that glimmer was dashed, as well.
"Since the Supreme Court takes so few cases, we knew it was a long shot for the case to be heard," said Steinberg. "We could only hope that they would intervene, since things in Manassas seem so out of control.

"It's frustrating to think that — even though the prosecutor admitted in Federal court to putting witnesses together in order to 'get their stories straight,' admitted withholding evidence and admitted visiting the key witness and threatening him again with the death penalty — the court will not intervene and at least grant a hearing."
Steinberg's also angry about Ebert's and Conway's apparent lack of "accountability" for their actions. "If you make a mistake, whether due to intentional or human error, you are at risk of losing your job or being sued," she said. "But a prosecutor can manipulate and destroy a person's life and have no consequences for his actions. That is dangerous."
"I had so hoped the Supreme Court would step in and make it stop — not just for my son, but also to make a difference in the system," she continued. "A change is badly needed to prevent other families from suffering the way ours has. I know another trial is not going to be easy for either family involved in this case."
Still, she added, "We have a wonderful team of attorneys, along with The Innocence Project, who believe in my son's innocence. We are disappointed, but we will not give up. We will continue to hope and pray for justice, and for Justin to come home soon."