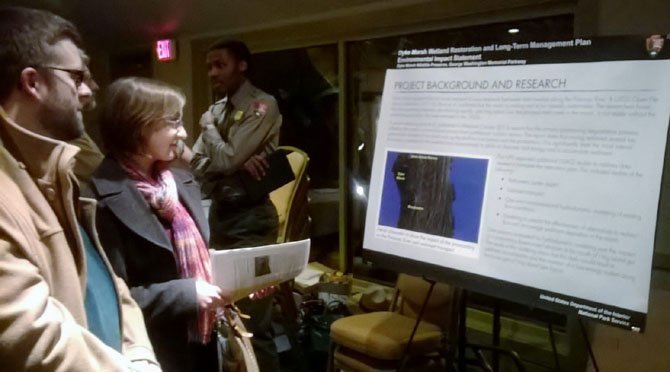 The draft Dyke Marsh Restoration Plan and Long-Term Management Plan/ Environmental Impact Statement is available for public comment until March 18.
The National Park Service presented three options for the restoration and long-term management of Dyke Marsh at a public meeting on Feb. 26. NPS is recommending alternative C, which would restore up to 245 acres of wetland. This alternative allows for Dyke Marsh to be restored as much as possible, using hydrologic restoration.
In October 2013, the U.S. Department of the Interior announced that Dyke Marsh would receive $25 million for restoration.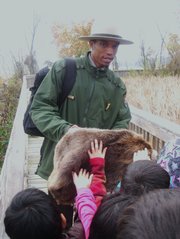 "What we witnessed during Hurricane Sandy was that our public lands and other natural areas are often the best defense against Mother Nature," Secretary of the Interior Sally Jewell said in a statement in October. "By stabilizing marshes and beaches, restoring wetlands, and improving the resiliency of coastal areas, we not only create opportunities for people to connect with nature and support jobs through increased outdoor recreation, but we can also provide an effective buffer that protects local communities from powerful storm surges and devastating floods when a storm like Sandy hits."
Dyke Marsh lost about 270 acres of wetland from 1940-1972, as it was dredged for sand and gravel. According to NPS, the restoration is necessary to halt shoreline erosion of 1.5 to 2.0 acres per year.
Mount Vernon resident Glenda Booth, who is president of Friends of Dyke Marsh, said she is in favor of full restoration of the marsh.
"We believe the restored marsh can be what's called a natural defense, which helps buffer against storms, and reduces the likelihood of flooding, because wetlands act as natural sponges. They can soak up a lot of floodwaters. Therefore, a restored marsh can do a better job with that," Booth said
Booth said the plan is well-thought out scientifically, pointing to the U.S. Geological Survey Study released in 2010 that demonstrated the severe erosion occurring in the mash.
"Wetlands also are natural filters of pollutants," Booth said. "We know the Potomac River and Fairfax county streams are in very bad shape, so it would be helpful in that regard. We believe that this plan is very well thought out scientifically and has a strong scientific base."
Ned Stone, vice president of Friends of Dyke Marsh, has noticed the erosion at the marsh. Stone often kayaks at Dyke Marsh.
"One of the things that I am very well aware of, having been out there since I retired in the last six years or so, going up and down the shores, is that the shores are going back. They are retreating at an enormous rate. It's just appalling to see how they are going back," Stone said. "We constantly see shorelines, some of which are fairly solid gravel, but many of which are muck, just being washed gradually away and everything going gradually back," Stone said. "I've seen it with my own eyes."
Friends of Dyke Marsh has been pushing to get some sort of restoration to take place for a while, Stone said.
"We're somewhat ecstatic, somewhat anxious, as to whether this can actually be pulled off," Stone said. "It looks like we simply need to move ahead in linear time. I don't see the park service changing very much on the basis of present comments," Stone said.
The plan is available for comment at http://parkplanning.nps.gov/projectHome.cfm?projectID=20293. NPS is expected to prepare and release the final plan in Summer/Fall 2014.
Upcoming Friends of Dyke Marsh events:
Spring Cleanup, April 5

Spring Walk, April 19

Earth Day, Raptor Rapture, April 26