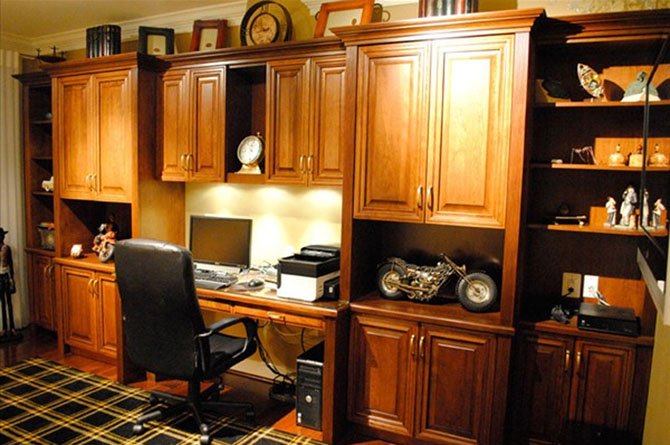 Whether it's a nook, in the kitchen or a designated room, a home office is the place were ideas come to life. Local designers dish about the secrets to creating a workspace that is organized and functional yet stylish.
"You're going to spend a lot of time in it so aesthetics do matter," said Patricia Tetro of BOWA in McLean.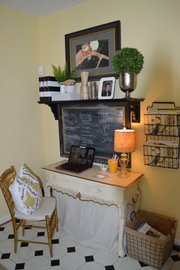 Thinking about how a space will be used is the first step in the design process. "An office is as unique as a person," said interior designer Julie Sproules of the Art Institute of Washington in Arlington. "Each person has a different way of working and therefore a different set of needs. If you are working from home, you'll be spending a lot more time there than if you are using it to keep the household paperwork in order."
There are a series of questions that one might consider: "How will you use the office? Is it just for you? Do others come in and meet with you? Do you tend to do most of your work on the computer?" asks Tetro. "Do you do things by Skype? If so, the placement of the computer becomes more critical."
Storage and the placement of it is one of the most important home office design decisions. "Where do you want to keep things?" asks Tetro. "When sitting in a chair, do you need to have your entire realm within arm's reach?"
Getting creative with storage supplies is a technique that Sallie Kjos of Grey Hunt Interiors in Chantilly, uses to avoid compromising style for order. "A floating shelf will help to keep a clean look, but have it organized," she said. "You can also get decorative boxes in a variety of colors."
Sproules uses labeled storage bins to a create home office space that has a place for everything. "There are a million different kinds out there, from wood to rattan to linen," she said. "Get a bookshelf that you can fit the bins in. … Leave some room … for a filing binder and books, but anything small should go in a bin. This way you can just throw all the markers, yarn, buttons and [other miscellaneous items] into their bin and not have to worry about them being misplaced."
Don't forget to save a space for smart phones and tablets. "You might need charging spaces with electrical outlets that are easily accessible," said Tetro.
To create an orderly appearance, stash files, papers and other office supplies out of sight. "A lot of people use an extra bedroom as a home office. Take the doors off the closet and create a storage area," said Bart Goldstein of Bart Goldstein Interior Design in Potomac, Md. "Add closed storage on the bottom that works as file cabinets, but looks like a piece of furniture" such as a chest or a credenza.
"You can make it look like a built-in," said Goldstein. "Closet companies … are able to make it look like a real working office with nice furniture."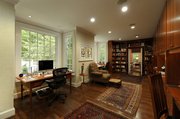 GET CREATIVE when selecting a desk to add interest and express your personal style. "You can use an old writing table, side table or console table to use with a nice parsons chair," said Kjos. "This makes more inviting space that is decorative but functional."
Choose seating that incorporates style and comfort. "This doesn't have to mean a task chair," said Sproules. "Task chairs are great if you're sitting in them many hours a day, and there are some attractive options, but I prefer … a small lounge chair to give it more of a homey feel. Just make sure it can be pushed under the desk or table when not in use. … I have even used small metal side chairs or stools like an old classroom."
A person's occupation and work style should be considered. "Stools are especially great if you get up and move a lot as a part of your working routine," said Sproules. "You can swivel from one side of the table to another and being on a bar-height stool means you're more likely to get up and walk around routinely. If you do choose a bar-height stool, make sure your desk or table is either height-adjustable or standing-height."
Proper lighting is another key component of a well-designed home office. "Consider overhead lighting" said Goldstein. "[It] will not take up space like a lamp. You can run an eight-foot [lighting] track though the middle of the room and turn the lights toward the desk."
Incorporate more than one lighting source into a room's design.
"This helps you modulate the light for the task that you're doing," said Sproules. "You should have one general light: an overhead light or a floor lamp that … provides general, diffused light and a task light for more focused work," such as a small, adjustable lamp with dimming capabilities.
When it comes to maintaining a sense of home in a home office, designers suggest getting personal. "You can mix interesting accessories like family pictures and a plant here or there to give the office aesthetic appeal as opposed to just function," said Goldstein.
ROOM DESIGN should reflect one's profession and personal needs. "Are you dealing with paperwork, mail and working on the computer, or would you be better off with a set up that is more like an artist's studio, with a clean table for 'making' and another area for the 'office' side of things [with a] bookshelf, table and storage?" asked Sproules. "How many hours a day or week to you plan on being in that space?
Sproules believes that one's occupation can be a source of design inspiration. "As an interior designer, I have an excessive collection of pens and markers that are organized in small boxes along a wall, like an art store," she said. "It's a nice way to personalize the space with your specific type of work without having it get too messy. And there's always a pen when I need one."
"In my own home office I have my desk against the wall with floating shelves," said Goldstein. "As an interior designer, I have a lot of catalogues that I'm always pulling from. I have a seating area in my office because people are always coming in. We can have a conversation while I'm working."
"There is one accessory that no home office should be without," said Sproules. "Everyone needs a tack board," she said. "If you're more of the artistic type, use cork board tiles. They come in all sorts of colors, and you can paint them too. [You can] cover a whole wall or a large section to use as an inspiration board. If not, you should still tack up images that you find inspiring, or at least peaceful."