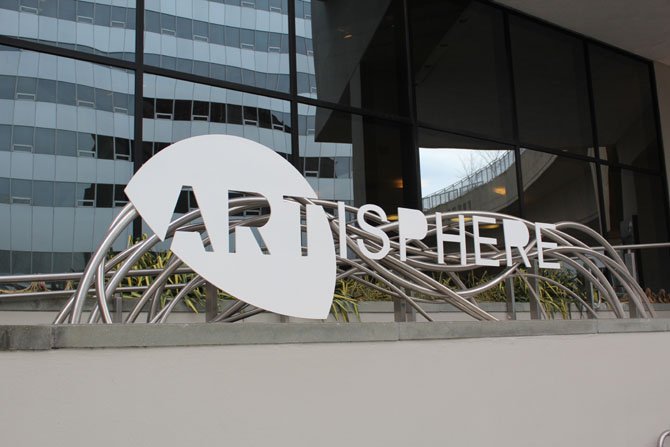 Winter weather may make getting out and about a little harder, but it will not stop Arlingtonians from having fun. Whether enticed by sports, art, literature, movies or music, Arlington has a plethora of exciting activities to beat, or embrace, the cold.
Sports enthusiasts of all ages can embrace the cold at Kettler Capitals Iceplex, situated atop the Ballston Commons Mall parking garage. While it's not quite a getaway from the wintery weather, Kettler is a state-of-the-art facility that offers fun activities in an indoor rink — everything from public skating, to figure skating and hockey programs to broomball. It is also the home to the Capitals' practices, which are open to the public to watch. Visit www.kettlercapitalsiceplex.com for schedule information for public skating hours and rates, programs and events; the practice information for the Capitals is posted on capitalstoday.monumentalnetwork.com.
Just down the street from the iceplex, in the Virginia Square neighborhood, is the Central Library of the Arlington Public Library. For book lovers, nothing quite feels like a relaxing winter day like curling up with a good book — and what better place to do so than the Arlington library? This library offers a range of services, activities and books to entertain every interest, age and educational need, while providing an open, welcoming atmosphere with abundant seating, tables and computers for everyone to enjoy. Book clubs, computer lessons, author talks, art exhibits, language conversation classes and many other services are provided to serve various learning levels and ages.
In addition, after-school clubs, homework help and reading programs are offered for Kindergarten through fifth grade students, volunteer opportunities, young adult books and more homework help are available for middle and high school students. With several other branches throughout Arlington County, the library is accessible to all residents. Visit library.arlingtonva.us for additional information.
FOR A MORE VISUAL set of entertainment, Arlingtonians can visit Artishphere — a space in Arlington for creative spirits. Located on Wilson Boulevard in Rosslyn, just two blocks from the Rosslyn metro station, Artisphere is easy to get to by foot, metro or car. With various galleries and performances, Artisphere offers a lot of visual stimulation for the eyes and mind, from visual art to theater to live music. A cafeteria area, complete with a bar (cash only) that provides beer and wine service, and an open floor plan with an abundance of seating, provides a quiet, calm space for visitors to sit and chat, read or eat, and, not to mention, take in some great views of their surroundings. The galleries are free, while scheduled events have a ticket cost. Parking is free after 5 p.m. during the week, and all day on weekends. For additional information on upcoming calendar events, tickets and programs available, visit www.artisphere.com.
For movie-goers and live entertainment enthusiasts, Arlington Cinema 'N' Drafthouse is a unique theater experience. Located on Columbia Pike, the drafthouse offers movies and events, including live music and comedy, on a daily basis. Attendees get to sit in large, comfortable seats while receiving tableside service with a full restaurant and bar menu — making a trip to the movies an enjoyable experience for both the eyes and the taste buds. The theater also offers $2 movie nights on Mondays and Tuesdays, and the occasional Wine Night that provides movie-goers with the option of wine tasting. (On a side note, attendees must be 21 or older unless accompanied by a parent and/or guardian before 9 p.m.; only 21 or older after 9 p.m.) All onsite ticket sales are cash only. Look at arlingtondrafthouse.com for full details on upcoming movie showings and events.
WHEN THE COLD cannot be beaten, embrace it. One Arlington site that provides a number of enjoyable activities in this winter weather is Pentagon Row, located on South Joyce Street in Pentagon City.
With an outdoor ice rink, stores, restaurants and live entertainment, Pentagon Row has something to offer for everyone. RowRemix provides music lovers with a live DJ performance every Saturday night through Feb. 22 from 7-10 p.m. Just a few blocks from the metro and close to major highways, the area is easily accessible. For more information, visit pentagonrow.com.