Women's golf is growing by leaps and bounds, particularly in the Potomac area with all its public and private golf courses. However, finding that perfect outfit, bag, shoes, socks — or gift items for a golfing buddy can be a challenge.
A new store has opened in Chevy Chase to address just this need. Gals on and off the Green provides what every woman golfer needs to look smart while teeing off, putting and chipping. The store also carries tennis apparel as well as stylish comfortable fashions that transition from day to evening, resort wear, bags and accessories.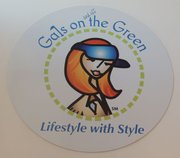 Jackie Sorrenti, founder and owner said, "We want to help women look and feel better about themselves. We do not believe women should buy something simply because 'it fits' but rather because it fits well and is stylish and make you feel great when you wear it. We carry something for everyone. We offer conservative to fashion-forward clothing in sizes 0 - 22 from a variety of world-wide designers."
Sorrenti launched her first Gals on and off the Green store in Pittsburgh where she and her husband were residing. Formerly an information technology professional, she decided to listen to her entrepreneurial instincts and drew up business plans for a number of different types of retail stores. Once she settled on a women's golf store, she approached friends in business to read her business plan. With their advice, she re-wrote her plan, found funding and opened the doors of her shop in 2004.
Photo Gallery
Gals On and Off the Green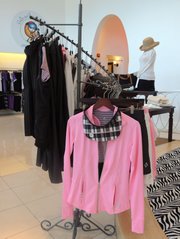 Retail business focuses on women golfers.
Click Photo for Flash
Her second Gals on and off the Green in Chevy Chase became a reality last August. She recently opened her third store in Plano, Texas (where they now reside) in November. "I travel from store to store a lot," she said. "But I am truly passionate about what I am doing." She is the buyer of all the fashions and manages all three stores with the help of her sales associates.
The shop carries more than 30 different fashion brands including Golftini, Jamie Sadock, Tail, Nike, EP Pro, Nivo, Sunice and Jo Fit in a wide selection of styles and colors. Golfers can find golf shoes that are unlike traditional golf shoes which can be worn from the 18th hole right onto the street for shopping or dining. Glitzy golf bags and club covers, hats, sparkling ball markers, and a surplus of gift items from golf towels to serving platters and wine glasses will attract the buyer to come in often to see what is new.
The store is also planning trunk shows and will be pleased to host innovative and fun parties for women's golf groups.
Sorrenti comments on another goal that she set when she first opened: "As a company, I wanted to find a way to give back to the community. We became involved with The First Tee, Pittsburgh and this is our 10th year of serving as a sponsor and host of their golf outing. We raise funds for teaching golf, ethics and skills for being successful in life to needy youngsters. In 2013, we launched the GALS Scholarship Foundation (Growing, Achieving, Learning, Succeeding) to support women of all ages in furthering their education."
Gals on and off the Green is located at 5449 Wisconsin Ave, Chevy Chase. They are open from 10 a.m. – 7 p.m. Monday through Saturday and 12-5 p.m. on Sunday. Call 240-800-4670 or vist its "Lifestyle with Style" fashions online at www.galsonandoffthegreen.com.