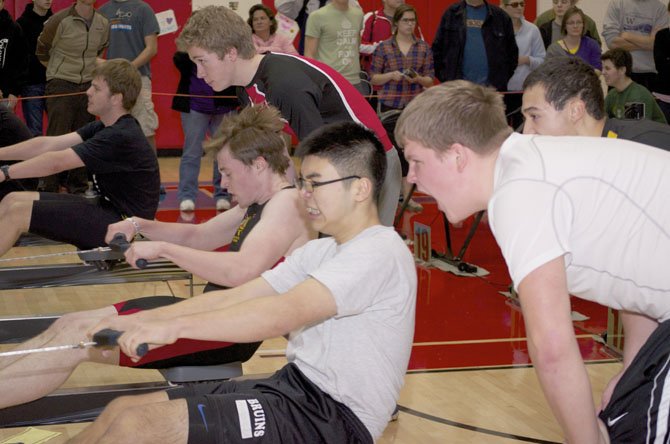 A new world indoor rowing record was set in Alexandria at the 29th MidAtlantic Erg Sprints, which was held in the Gerry Bertier Gymnasium at T.C. Williams High School on Saturday, Feb. 1.
The record was set by Tom Darling of the Cambridge Boat Club in Massachusetts. Competing in the 2000-meter race for veteran men age 55-59, Darling blasted the hinges off the previous world record by covering the distance in a time of 6:12.6, which was over six seconds faster than the previous record of 6:18.6 set by Dick Cashin in 2009.
This year's competition featured more than 1,500 athletes competing on 120 ergometers that were set up on the race floor inside the Gerry Bertier Gymnasium. The athletes ranged in ages from under 10 to over 70.
The athletes came from such high schools as T.C. Williams, Bishop Ireton, West Potomac, Thomas Jefferson, McLean, Yorktown, Washington-Lee, Bishop O'Connell, Lake Braddock, Langley, Loudon County, James Madison, St. Albans, Gonzaga, Georgetown Visitation, Walt Whitman, Walter Johnson, Churchill, Hylton, Oakton, Robinson, Wilson, West Springfield, Western Albemarle, Westfield, Bethesda-Chevy Chase, and the Academy of the Holy Cross.
Next year's MidAtlantic Erg Sprints will be held on Jan. 31, 2015. For the complete results of this year's competition, visit www.ergsprints.com.