Sharing her views on peace, faith and helping one's fellow man, Fairfax County Board of Supervisors Chairman Sharon Bulova participated recently in a peace event at a Chantilly mosque.
She was a guest speaker invited by the Women's Auxiliary of the Ahmadiyya Muslim Community, and she said she's pleased to be in local government where she can have direct involvement with and impact upon her constituents.
When a recession hit the area in 1995, she represented the Braddock District and she and some others were brainstorming for ideas on making do with less money. "We were discussing human-services redesign and how best to help the poor with less federal dollars," said Bulova. "And a woman from Lord of Life Lutheran Church asked if the churches and county government talked with each other."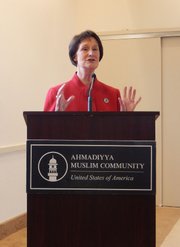 The woman also asked if the churches talked to other churches. So, said Bulova, "We decided the churches and synagogues in the Braddock District could partner. We created Faith Communities in Action." And as Fairfax County became more diverse, places of worship representing other faiths besides Christian and Jewish joined, as well.
"We knew we had domestic-violence and affordable-housing issues," said Bulova. "So then we created an Office of Community Interfaith Services so we could work together on things of mutual concern to us."
Then came Sept. 11, 2001. "People were frightened," said Bulova. "They put flags in front of their houses and had strong feelings of patriotism. But a Lutheran pastor was concerned about a possible backlash against Muslims in Fairfax County. So we held an interfaith forum; we held hands and it created a bond between us all."
Later on, she said, "We learned that people in Syrian refuge camps in Turkey needed blankets. So we mobilized the faith communities to collect them. In the end, via Faith Communities in Action, 25,000 blankets were collected."
"Little things make a difference," she told the Ahmadi Muslim women. "I think the work you do is great and I look forward to working with you. We love and respect all of our neighbors and their religions."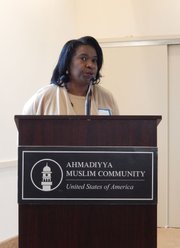 Stone Middle School Principal Amielia Mitchell also stepped to the podium to share her thoughts. "How do we teach love for all and hatred for none in the schools?" she asked. "We teach children about building strong relationships and being critical thinkers. We're in this fight with you. It's a big picture that starts in the home and moves into society."
The women also discussed justice. To Bulova, it means "fairness and respect for people's points of view and backgrounds."
Mary Beth Style of St. Timothy Catholic Church said it's "recognizing that people have a dignity just because we are. Love has to be a part of justice and charity, or else these things are tyranny."
Event moderator Mubarika Shah defined justice this way: "What you want for your brother, you want for yourself."
Before closing the peace conference with a silent prayer by everyone, Farhana Fouzia, president of the auxiliary's Northern Virginia chapter, thanked the guest speakers. She said their participation showed their "love and passion for humanity and peace." And, she added, "We hope this bond of sistership continues to strengthen."