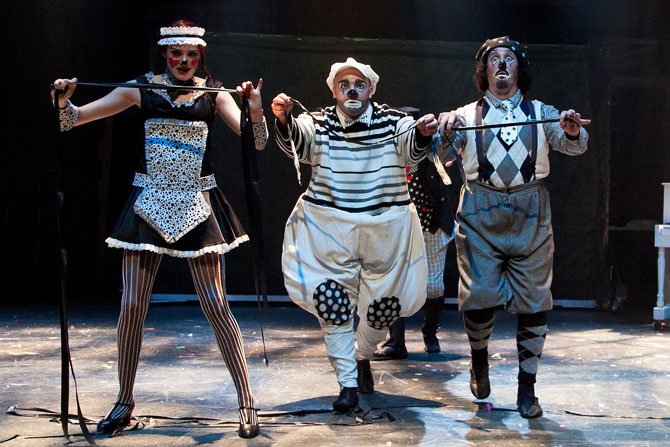 Synetic Theater in Arlington is staging a no-dialogue, high-energy and acrobatic production of "Twelfth Night." Shakespeare's comedy, set in the silent film era, will run through Feb. 16.
With a backdrop of the Roaring '20s, "Twelfth Night" tells the tale of fraternal twins, Viola and Sebastian, separated in a strange new land. Having survived a shipwreck and believing her brother Sebastian has been lost, Viola falls in love with Duke Orsino and disguises herself as a man to enter his service.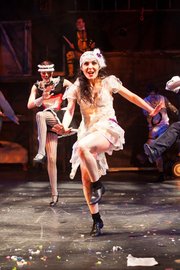 Inspired by Buster Keaton and Charlie Chaplin, the show starts out with two pantomiming clowns breaking the fourth wall with the audience, who set the stage as directors of a silent film of the 1920s.
Arlington Night
Tickets for Arlington Night are $25, which includes appetizers and drinks. Arlington residents can purchase tickets via the website; they will need to show an ID with an Arlington address when they pick up their tickets. Tickets can be purchased using the code "Arlington" at www.synetictheate... or by calling 866-811-4111.
This is the 10th installment of its Silent Shakespeare series set in tightly constructed farcical scenes and subplots. And the first time that Synetic Theater has attempted the flapper-like dance moves incorporating the Charleston, Foxtrot, and Jitterbug.
Founded in 2001 by the husband and wife team of Paata and Irina Tsikurishvili, Synetic Theater mixes drama, text on screen, acrobatics, dance, film, moving sets, and original music. The costumes are a mix of black and white fabrics punctuated by reds.
A special "Arlington Night" is scheduled for Wednesday, Feb. 12, where Arlington residents will be able to mingle at a pre-show reception at 6:30 p.m., at the Marriott Crystal City, located just above the Synetic Theater, before taking in the show.
"I wanted to do something to connect with American culture," said director Paata Tsikurishvili. "I love the language of storytelling from the 1920s."
His challenge was to figure out how to do Shakespeare without words. Because of Synetic's strong team of actors — who have been working as a team for as many as 10 years, "We were able to pull out an amazing production," he said.
"Why I do Shakespeare, like this with less text, is because we have that vocabulary to express without the words — like crying and laughing; I take it to the next level," he said.
Before he started production, he spent seven to nine months chewing on his ideas, working with the playwright, choreographer and designers. Then he spent about eight to 10 weeks polishing the scenes with the actors. "We improvise a lot," he said. "Actors became the paint, the colors and the text….
"Symbolically we constantly change things," he said. "It takes three to five takes, each sequence."
"It was exciting to work in the 1920s style," said his wife Irina who plays Viola and did the choreography. To prepare for her role, she spent three weeks learning swing and other dancing — so she could master it and then teach it to the cast. She already knew the Charleston.
"I tried to create Charlie Chaplin," said Irina, who grew up watching his movies. "He had a deep influence on me."
As far as playing Viola, she said she wanted to bring a more human side to her character. "She's not a clown, but she's in a situation that's laughable," she said. "She always has this melancholy in her."
She said performing in "Twelfth Night" has been exhausting for her. "You have to stay on high alert all the time," she said. "It takes a lot of energy …I'm losing two pounds per night."
Musical director Koki Lortkipandze of Arlington was inspired by the work of Louis Armstrong, Duke Ellington and Scott Joplin, who pioneered American jazz.
"I was trying to catch the 1920s feeling," he said. "The feeling of silent movies." Songs he selected included "Mexican Hat Dance," "The Entertainer," "Ragtime," and "Sing, Sing, Sing" by Benny Goodman.
He said the challenge was incorporating the jazz style into the show, because Synetic had never used jazz before. "I was trying to catch that feeling."
The "Twelfth Night" production runs Wednesday through Saturday at 8 p.m. and Sunday at 2 p.m. through Feb. 16, with an added performance at 2 p.m. on Saturday, Feb. 15. Tickets are $35 and up. Student tickets start at $15. Senior citizens and military receive $5 off. Group discounts are available. The venue is at 1800 S. Bell St., Arlington, VA 22202, with metro accessibility at the Crystal City station (Blue/Yellow Lines). Parking is free under the Marriott after 4 p.m. weekdays and free on weekends. Call the box office at 866-811-4111 or visit www.synetictheater.org.