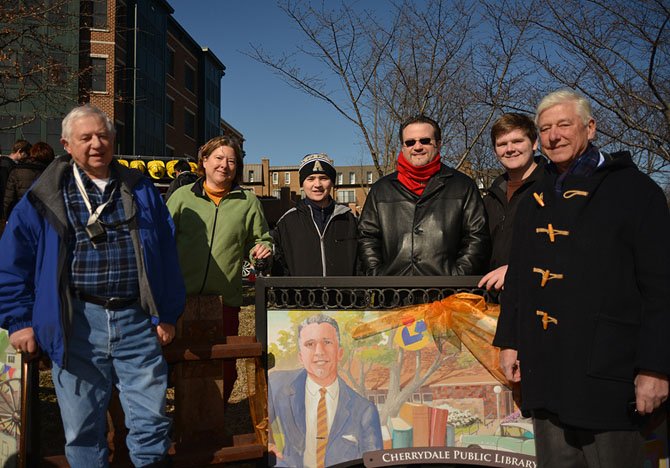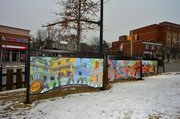 Arlington — A Feb. 18 ribbon-cutting ceremony marked the formal dedication of an art project on Lee Highway near North Monroe Street. This project came about as part of a site plan that allowed The Christopher Companies, a local developer, to build a 66-unit condominium building in exchange for some community benefits, including $20,000 for an art project for the Lee Highway median strip near the condominiums. The design for the project resulted from a competition among several artists who vied for local citizens' votes.
The winner was Washington artist Jarrett Ferrier, a muralist with 16 years of experience. He interviewed local historians, including Kathy Holt of Cherrydale and Robert McAtee of Maywood. Ferrier also met multiple times with community members to get a feel for what they valued about their neighborhoods.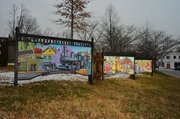 The resulting installation consists of two sets of three panels each, depicting six key aspects of the Maywood and Cherrydale communities: The railroad line that once served both neighborhoods, the historic Cherrydale Volunteer Fire Department, Cherrydale Branch Library, Maywood's status as a historic district, Maywood's strong sense of community, and the region's Civil War history.
After the ribbon-cutting, a reception organized by Cherrydale social director Debra Berke took place at the original Cherrydale Volunteer Fire Department building.
Speakers included Cherrydale Citizens Association President Maureen Ross, artist Jarrett Ferrier, Arlington Circuit Court Clerk and former County Board member Paul Ferguson, historian Kathy Holt, CVFD chief Scott Pardi, CVFD administrative member Tracey Price, and Citizens for Cherrydale Library member Greg Embree.
Out-of-town guests included the descendants of Arlington civic activist Harvey Lampshire (1912-93), who is commemorated on the panel celebrating the Cherrydale Branch Library building, which he campaigned for during the late 1950s and which was completed in 1961. Present at the ribbon-cutting were Lampshire's two sons, Brad and Geff; two grandchildren, Kristine Lampshire DeFreitas and Greg Lampshire, along with Greg's wife Laura and their two sons, Jared and Nathan. Kristine DeFreitas drove to the celebration from Suffolk, Va., some 200 miles away. Geff Lampshire arrived from Annapolis, and the Greg Lampshire family traveled from Olney, Md.