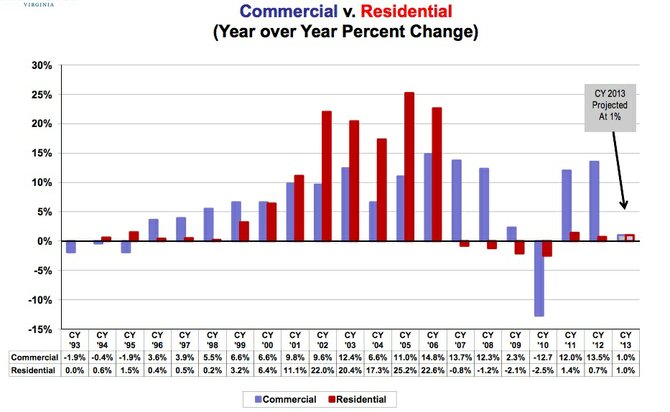 Hold your wallets. It's that time of year again. This weekend, Arlington County Manager Barbara Donnellan will present her proposed budget for fiscal year 2014, which begins this summer. That will begin the annual ritual of taxing and spending, a cycle that many county residents say has become a money-hungry crusade for increased revenue at the expense of neighborhoods and communities.
"The County Board doesn't care about the neighborhoods. They just want more revenue," said Bernie Berne, president of the Buckingham Community Civic Association. "This is a County Board that acts like Republicans even though they're all Democrats."
The rising tide of development is a common complaint in Arlington, where residential neighborhoods are increasingly in the crosshairs of developers seeking larger and larger densities. That means increased tax revenue, which gets the attention of elected officials charged with balancing the budget. But it's created a source of conflict among many neighborhood residents in Arlington who are concerned about quality of life.
"The County Board should be trying to help people who are here now rather than future residents," said Maureen Ross, president of the Cherrydale Citizens Association. "We put our life savings into a neighborhood that feels like a small town, and now they want to change that."
LATE LAST YEAR, the County Board directed the county manager to craft a budget proposal that would balance the budget with an equal mix of tax increases and spending cuts to close a projected gap of $20 million to $50 million. Donnellan has already ordered a slowdown in hiring for county positions, restricting the pace at which departments may fill openings. She's also authorized early retirements to those who qualify, and she's instructed department heads to provide expenditure reductions.
"The board's budget guidance creates a framework within which we can begin our work," said Mary Hynes, who was chairwoman of the board at the time. "During these uncertain times, we will have to make some tough choices."
The coming weeks will see a number of organizations and interests advocate for everything from schools to affordable housing. In the Waverly Hills neighborhood, for example, neighbors will be pressing for $500,000 to fund improvements to Woodstock Park, a design that's already been approved and is now waiting for funding.
"This is really important to our neighborhood," said Ginger Brown, president of the Waverly Hills Civic Association. "This is an older park, so the playground equipment is outdated."
Over in Fort Myer Heights, neighbors will be pressing for affordable housing units to be part of the Pierce Queen Apartments.
"We want to preserve as much affordable housing as possible," said Stanley Karson, president of the Radnor/Fort Myer Heights Civic Association. "This is a priority for us."
PROPERTY TAXES have been a cash cow for Arlington for decades. According to a budget forecast presented late last year, the county expects to receive about 53 percent of its revenues this year from property taxes. County budget officials closed out the fiscal year 2012 with a General Fund balance of $192 million, extra funding that was created by stronger-than-expected revenues, school savings and operational savings. The money went to county reserves, public schools and affordable housing.