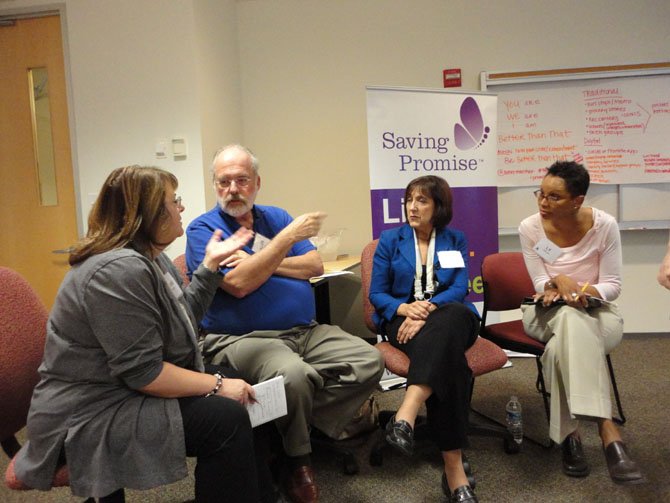 Arlington — October is National Domestic Violence Awareness Month. It is a time to bring greater attention to the social ills of domestic violence and to address ways to reach those affected by it. The physical and emotional components that embrace domestic violence are driven by the elements of power and control. Both women and men are impacted by the devastating effects as well as the sometimes lethal impact of domestic violence.
Lydia Y. Marlow, a woman whose family has endured 60 years of intergenerational intimate partner violence that included her grandmother, her mother, herself, and her daughter, stepped down from her leadership role in corporate America to develop a call to action for a public awareness strategy. Her goal is to elevate the focus on domestic violence to the same level of attention that the fight against breast cancer has received.
Marlow, the founder of a grassroots domestic violence organization, Saving Promise, recently partnered with Georgetown University's Center for Social Impact Communication and convened a summit of communications and preventions experts who gathered in Arlington County on Sept. 29, to develop strategies for this campaign.
She has used her family's story to have a voice, and Marlow wrote a book, "Color Me Butterfly," that discusses the intergenerational domestic abuse of her family. In addition, she founded the organization, Saving Promise, when her granddaughter, Promise, was 6- months- old. Promise is now 5-years-old.
Marlow's daughter was in an extremely dangerous and abusive situation. She learned that her daughter had blacked out while being strangled, and her daughter, Promise, was nearby when that occurred. Consequently, Marlow assisted her daughter by helping her to move several times. However, the abuser located her daughter and attempted to kill her twice.
"I felt like someone needed to bring national awareness to this," Marlow said. "We, as a country, are very distant around this issue because of shame and silence connected to it. The way to break the silence is to communicate about it. We have to engage our communities — the faith-based, universities, colleges, and corporate America — in ways that have never been worked before. We have to move away from a reactive model to a proactive model."
Marlow believes that most of the work and funding surrounding domestic violence have revolved around a reactive model where resources and tools are provided after a violent episode occurs. Her organization's goal is to focus more on prevention, education, and awareness.
Her desire is to also partner with the medical community and, specifically, a medical facility in the area to engage in this effort. Marlow believes health care professionals need to be trained to ensure there is integration with the advocacy community for victims to be able to get the help they need. The family doctor, gynecologist and even the pharmacist need to be on the front end of the prevention side in addition to providing care.
Referring to the 2011 Center for Disease Control year-long study that produced a document of more than 100 pages, Marlow pointed out that intimate partner violence is the worst it has been in decades. She attributes part of that reason to the lack of prevention and awareness. "There's something going around the culture that needs to be addressed. We need to have a different conversation and strategy around this issue. I'm courageous enough to do this. My passion comes from literally trying to save Promise," she said.
Marlow has a five-year strategy in mind that includes launching the national public awareness and advocacy initiative in 2013. She wants to pilot a program in the Washington D.C. metropolitan region as well as six to eight metropolitan cities that have experienced the highest rate of domestic violence. Her desire is to launch it on the national level with a positive and empowering approach. Inclusive of the health care model, she also wants to provide education and awareness in the workplace. "We've got to make this story America's model," she said.
Karen L. Bune, a freelance writer, serves as an adjunct professor at Marymount University in Arlington and George Mason University in Fairfax.