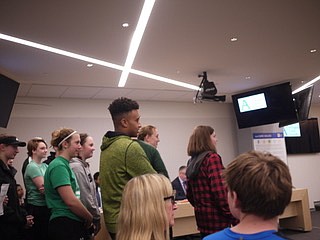 Musse Yimer, in green, captain of the Wakefield Crew team, and his crew teammates, stood up to support the next speaker about crew. He said: "Crew taught me confidence, leadership and collaboration. Coming to this country only 7 years ago, this sport took me in as a freshman and has built for me friendships and family, and enabled me to get a college scholarship. I also learned to care for others: our 'Athletes without Limits' program for rowers with disabilities taught me how to be more selfless."
Stories this photo appears in:

Cuts threaten Equity and Excellence, crew, TJ access, libraries.
.