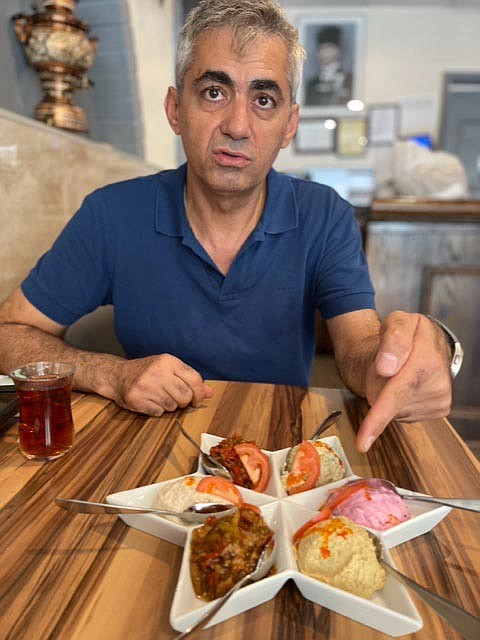 Turgut Yigit sits at a small table drinking a glass cup of Turkish black tea, which has been prepared in the large copper pot cezve. Yigit is from Antioch, Turkey and is the chef and owner of Istanbul Grill on Wilson Boulevard. He offers a small cup of Turkish coffee, finely ground with the unfiltered beans leaving a sludge in the bottom of the cup. "It's an acquired taste."
Yigit has been in America 23 years and just opened the neighborhood restaurant in 2018. He says his family had a restaurant in Turkey and he started as a dishwasher in America in 2000. "I didn't know how America worked." 
He said during Covid he was open but there wasn't much business. "People were scared. But the neighbors stopped by here and offered me money to keep going. They were happy with the restaurant and the good food. They didn't want it to go away."
Yigit says the mixed mezze platter is one of the most popular choices of his customers. "People love it; all of the flavors are different." 
The colors are different, too. A platter arrives with the pink kirmizi with thick yogurt and beets, the red kisir with bulgur, tomato paste and parsley, the hummus and babaganoush smoked eggplant dish, and his favorite ezme is the spicy mixed vegetables with olive oil walnuts and mint.
"I like spicy. In my home we are always eating spicy like breakfast with eggs, tomatoes, hot peppers, cucumbers and feta." He says in the restaurant they always make everything fresh.
A platter of borek passes by, another customer favorite. The flaky filo rolls are wrapped around feta cheese with parsley or spinach. The family in the corner has ordered the signature dish to share—the mixed grill with the beef filet, fish, chicken thigh, broiled tomato and red cabbage salad served over white rice or bulgur. 
Stop in with your family and enjoy the mural of Istanbul on the wall while you take time to select from the many lamb dishes, kebabs, hot and cold mezze platters and have a chat.