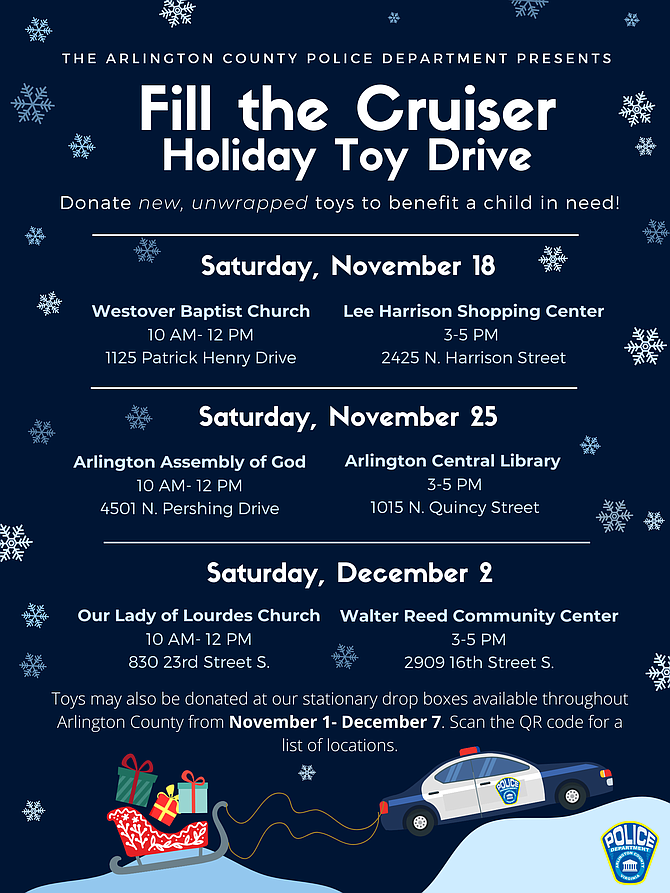 This holiday season, consider adding an Arlington child in need to your shopping list. Beginning in November, the Arlington County Police Department will be hosting the ninth annual Fill the Cruiser Holiday Toy Drive benefiting children in need in the Arlington community. Bring joy to someone's holiday by donating new, unwrapped toys at one of our collection events or stationary drop box locations.
Collection Events
Officers will collect new, unwrapped toys for children ages newborn to 17 at the following locations:
Saturday, Nov. 18
Westover Baptist Church, 1125 Patrick Henry Drive, from 10:00 a.m. – 12:00 p.m.

Lee Harrison Shopping Center, 2425 N. Harrison Street, from 3:00 – 5:00 p.m.
Saturday, Nov. 25
Arlington Assembly of God, 4501 N. Pershing Drive, from 10:00 a.m. – 12:00 p.m.

Arlington Central Library, 1015 N. Quincy Street, from 3:00 – 5:00 p.m.
Saturday, Dec. 2
Our Lady of Lourdes Church, 830 23rd Street S., from 10:00 a.m. – 12:00 p.m.

Walter Reed Community Center, 2909 16th Street S., from 3:00 – 5:00 p.m.
Stationary Drop Box Locations
If you are unable to attend one of our donation collection events, stationary drop boxes will be available at the following locations through Dec. 7.
Lost Dog Cafe, 5876 Washington Boulevard

Cathedral of St. Thomas More, 3901 Cathedral Lane

Arlington Courthouse, 2nd Floor, Administrative Support Unit, 1425 N. Courthouse Road

Ireland's Four Courts, 2051 Wilson Boulevard

Celtic House Irish Pub, 2500 Columbia Pike

Shirlington Library, 4200 Campbell Avenue

Long Bridge Aquatics & Fitness Center, 333 Long Bridge Drive

Freddie's Beach Bar, 555 23rd Street S.
Toy Distribution
Toys will be distributed by the Police Department throughout the Arlington community during the month of December.