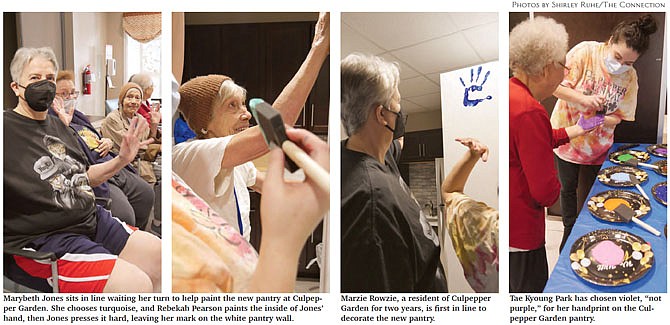 Rebekah Pearson, Resident Services Director at Culpepper Garden has set up paper plates in the all-purpose room with large pools of tempera paint — red and orange, blue and yellow and even brown for the Helping Hands Party on Monday, Oct. 23.
Marzie Rowzie is first in line and has come to help paint the new food pantry that will be dedicated in November. She says Arlington Food Assistance Center (AFAC) comes every Friday, and twice a month there is a full delivery including fruits and veggies, canned food and meat. On off-Fridays, AFAC makes a partial delivery with bread, milk and eggs. "It saves me a lot."
But Culpepper Garden has not had a permanent pantry to serve its residents facing food insecurity. Now a grant of $2,700 from Field to Table has allowed Culpepper Garden to build a permanent food pantry which will be stocked with supplemental non-perishable groceries made available to Culpepper residents. Field to Table is an Arlington-based nonprofit organization dedicated to building healthy communities in Northern Virginia by promoting better eating and nutrition and encouraging the purchase of food from local farmers and food preparers.
Rowzie choses blue and waits patiently while Pearson paints the inside of Rowzie's hand, including her fingers, with a coat of paint. "Now pick a spot on the side of the white pantry wall and press down hard." 
Marybeth Jones is next, and she choses turquoise. Jones says she often works on Fridays when the AFAC food delivery arrives. "I check people in. We have, oh 80 or so. I like it because I get to see a lot of people and meet some new ones." She adds she always gets the fresh fruits and vegetables and the chicken. "But I never get beans. We just never had them when I was growing up."
Tae Kyoung Park has been waiting her turn and thinks she wants red. But by the time it is her turn she has changed to the beautiful shade of violet — not purple she emphasizes. 
By the time the event has ended, multi-color handprints decorate the food pantry — just brings back memories of kindergarten one comments "when we used to make handprints just like these to take home to show our parents."
Residents walk by and poke their heads in the doorway. "Is this the paint party?" Several staff have arrived. "I came to put my handprint on the pantry, too. This is just too much fun." 
Culpepper Garden is an affordable housing community in Arlington for older adults. It provides 350 affordable independent and assisted-living apartments for low-income older Arlingtonians.