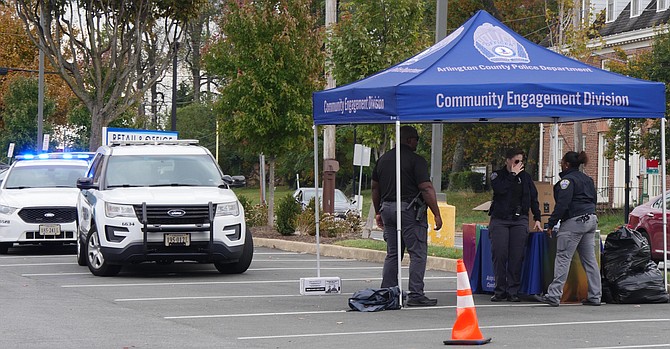 The large Arlington County Police Department truck has already been filled up half an hour after the event begins to collect essentials and cold weather donations for Arlington's unsheltered people. They will be distributed by the ACPD and the Arlington Department of Human Resources to people in need. Officer Hillary Hicken says, "They're unloading the truck. It will be back in a minute to fill up again."
Sgt. Dorian Brooks adds, "It's been really busy so far with a lot of T-shirts, used coats, and essentials like toothpaste and soap." Brooks has been in the ACPD for 13 years and just transferred to the ACPD Community Engagement Division from midnight patrol a few months ago.
Betsy Brown drives up in her white SUV loaded with two golden retrievers and a large supply of T-shirts, backpacks and toiletry articles. Eli and Leo, who has just had a canine orthopedic appointment, are enthusiastically greeting Corporal Patrice Malone and Officer Hillary Hicken through the crack in the SUV window. Brown says, "If I opened the window further, they'd be gone." She says," I try to participate in all of these community events sponsored by the police. It won't be long until the holiday drive. I love the one at Christmas." She adds, "It's just a great idea."
Another person chats with Brooks inquiring if they can use knitted articles. She explains, "I started knitting during the pandemic and now I just knit and knit. I've given my scarves to everyone I know." She checks on the date of the next essentials drive, which was Oct. 25. "I think maybe I can have some more knitted by then."
Beth sees the flashing police car lights across the Harris Teeter parking lot and stops with three-year-old Tyler and one-year-old Henry in their stroller to see what is going on. "I'll be back later with some things," she says.
This essentials drive is one of a series of community events hosted by the Community Engagement Division of the ACPD. Other events include the Christmas toy drive, the back-to-school supplies collection in the fall and the non-perishable food drive for AFAC which provides supplemental groceries to Arlington's low-income families. The purpose of these events is to serve the community's needs and to allow citizens an opportunity to get to know their local police.