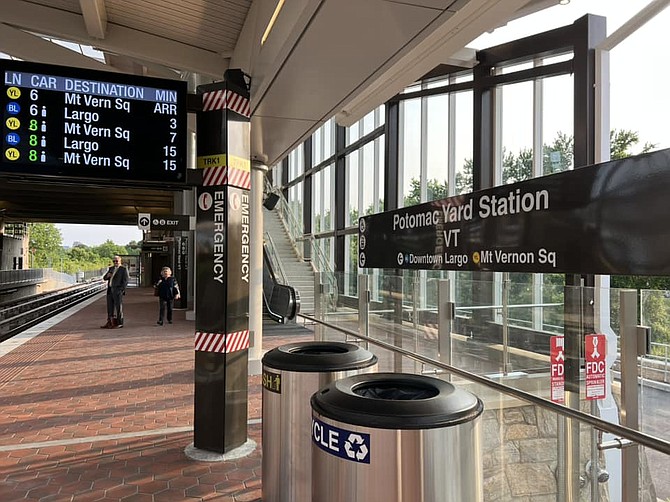 Dignitaries from across the region were on hand May 19 as the long-awaited Potomac Yard Metro Station was officially opened, connecting Braddock Road and Ronald Reagan Washington National Airport stations on the Blue and Yellow Metro lines.
"I am a proud Alexandrian and former member of the Alexandria City Council and I know firsthand what it took to get here," said WMATA Board Chair Paul Smedberg. "It was not easy but I could not be prouder to celebrate here with you."
Smedberg noted that the new station is expected to generate billions of dollars in private sector investment, supporting 26,000 new jobs and 13,000 new residents.
"We can all agree that this station will enhance the connectivity of the fastest growing area in Alexandria," Smedberg said. "It is very exciting to imagine what is going to become of this station, this city and this region."
Smedberg was joined by several officials in celebrating Metro's newest station, including Virginia's U.S. senators Mark Warner` and Tim Kaine    `, U.S. Rep. Don Beyer, Alexandria Mayor Justin Wilson, Virginia Tech president Tim Sands and Metro General Manager Randy Clarke.
"Wherever Metro goes, community grows and this is going to be another great example of that," said Clarke, who noted that more than 1,300 riders had already passed through the station in the first few hours of its opening.
Potomac Yard is Metro's 98th station and second infill station, built between existing stations. The station is located near Amazon's HQ2 East Coast headquarters in Arlington with walkable access to the Virginia Tech Innovation Campus and connections to other regional transportation systems, Bike & Ride facilities, and walking paths to the station from the surrounding area.
"As a proud Alexandrian this is great news not just for the city, not just for Northern Virginia, not just for the Commonwealth but for the whole DMV," Warner said.
Added Beyer, who is also a resident of Alexandria, "This station is living proof of the value of hope, and persistence and relentlessness, and courage and grit."
The station was initiated by the City of Alexandria and funded by tax revenues and developer contributions generated by planned new development in the Potomac Yard neighborhood, as well as state grants, loans and regional sources. It is Alexandria's fifth Metro station,  joining Braddock Road, King Street-Old Town, Eisenhower Avenue and Huntington Station.
"What a great day to be an Alexandrian," said Wilson, who noted that he was the sixth Alexandria mayor to be involved in the project that was years in the making. "This station is going to change lives forever and we made it happen together."
www.wmata.com