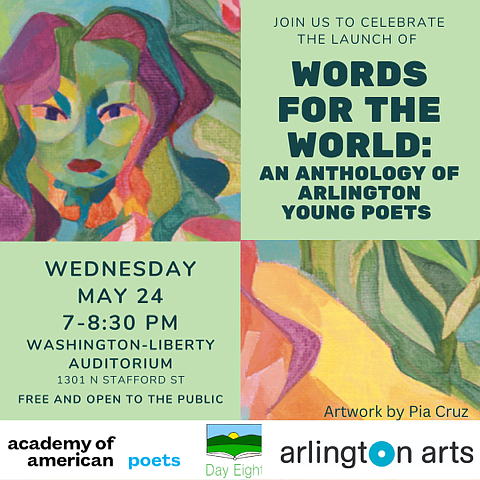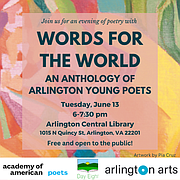 On Wednesday, May 24, celebrate the launch of  "Words for the World, An Anthology of Arlington Young Poets." 7-8:30 p.m. in Washington-Liberty Auditorium, 1301 N. Stafford Street, Arlington.
Words for the World is a youth poetry anthology executed by Day Eight in collaboration with Holly Karapetkova, Poet Laureate of Arlington County, Virginia, and Arlington Youth Laureates and poetry ambassadors Amasa Maleski, Kashvi Ramani, and Liam Mason. The brainchild of Karapetkova, Words for the World was one of twenty projects selected to receive a 2022 Academy of American Poets Laureate Fellowship.
The anthology is focused on the theme of "resilience" and includes writing by 38 high school students from Arlington County. 
Poet and literary activist E. Ethelbert Miller wrote about the book, "Here is the light that survives the darkness." And The Writer's Center artistic director, Zack Powers, wrote, "These poems are moving and powerful. Prepare to be wowed."
The editors and poets will be conducting a series of readings in Arlington County, and across the region this summer, including a book launch celebration on May 24 at 7pm at Washington-Liberty High School and a reading at Arlington Central Library on June 13.