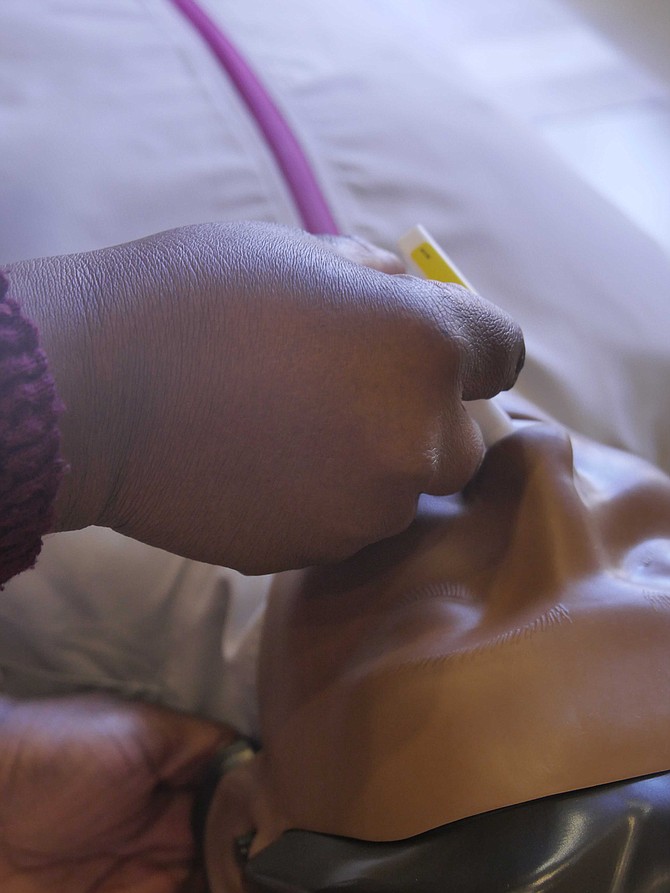 Arlington County Public Schools has taken the opioid issue head on. It has partnered with the County to educate and train all public school personnel in the warning signs of opioid overdose and how to administer Naloxone (Narcan) nasal spray to reverse the impact of an overdose. Narcan is the only effective treatment known to rapidly reverse the effects of an opioid overdose and can be used immediately before 911 responders arrive.
The emergency kit cabinets which will hold the Narcan have been on order and were installed on every floor of every public high school in Arlington by March 3. They are scheduled to be installed in all middle schools the week of March 6. Kristen Devaney, Director of Student Services for APS, says the cabinets will be unlocked and very accessible for quick and easy access in an opioid emergency.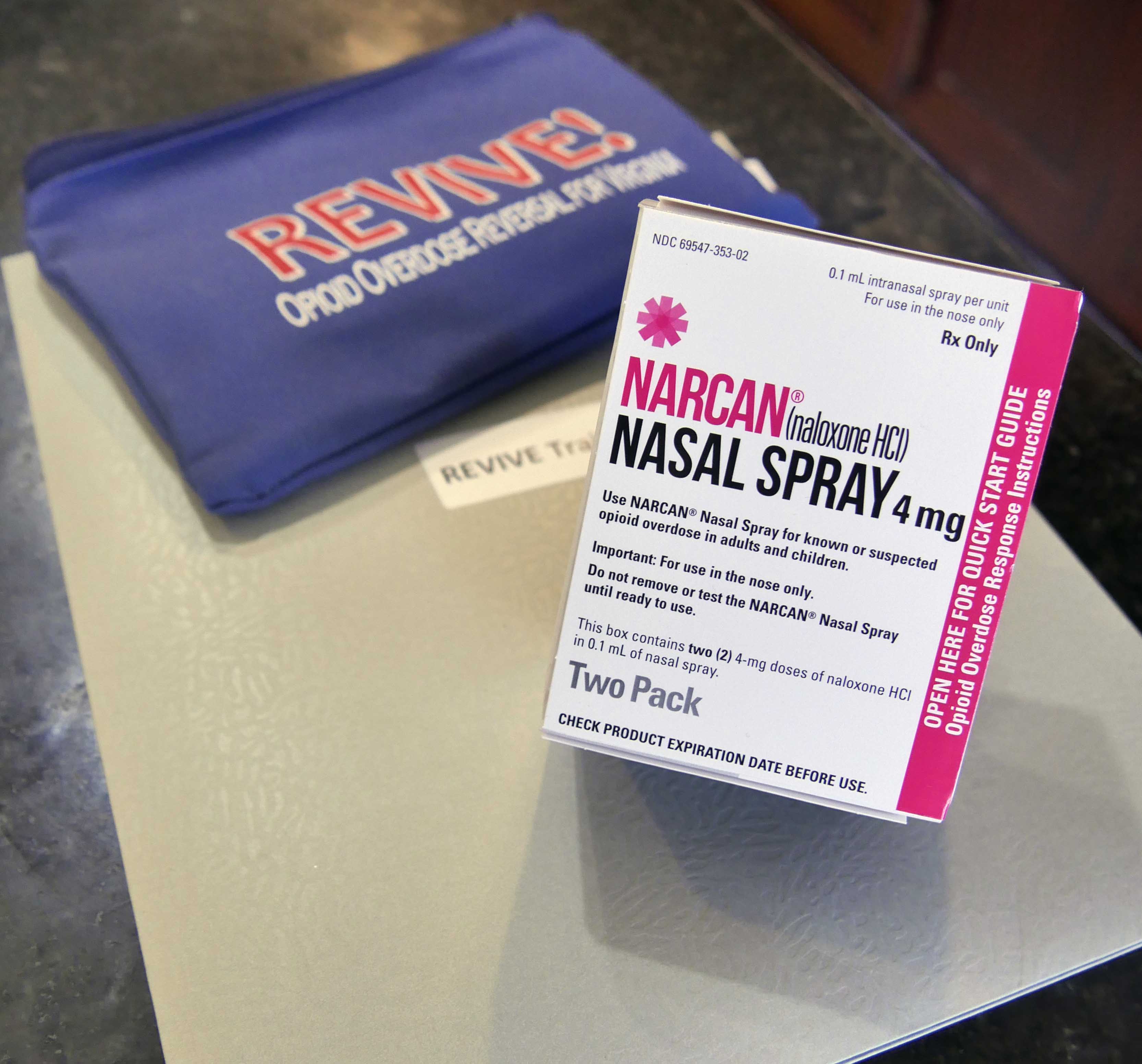 Optional Narcan training for school personnel began in the fall but in December 2022 became mandatory due to the opioid epidemic in the community. Devaney says 1,033 school staff members are currently trained in the use of Narcan, and a number of staff have requested to carry it with them. She says out of 493 requests for Narcan by school personnel, 134 have been supplied "but we can only order it once a month and there is a shortage." She explains they had been getting Narcan supplies from Arlington Department of Human Services but DHS is now also giving it to the community "so we are reaching out to the state."
Devaney says the training includes a seven-minute long video with a step-by-step explanation on how to administer Narcan with a brief explanation about opioids in addition to education for all staff on professional development days. She says the plan is to expand this training to include bus drivers and coaches. "Security staff already have the training."
A Yorktown high school teacher comments, "The Narcan training was presented as entirely optional but I did the video the week the Wakefield student was hospitalized. It is my nature to respond to situations. The video was enough to know what to do but I wouldn't feel comfortable if I hadn't also been CPR trained."
She has also requested her own Narcan supply because she is at the far end of the building a long way from the emergency cabinet and "because I am located close to a bathroom."
One middle school teacher comments that she has taken the training through a Microsoft Teams meeting and, "I think it was more of an attempt to present APS as responding proactively and quickly, as opposed to actually being helpful." She was told she would receive a Narcan kit which was provided free from the State of Virginia. "However, there is a backlog of orders so it would take time for APS to receive." She adds, "The superintendent's boasting that we have all been trained is true but most would make the assumption that we could actually use the training which we can't. I have spent so much of my personal money for school supplies that I am not willing to purchase my own." 
Using Narcan for the first time in an unknown emergency situation can be intimidating. Devaney says some staff don't feel confident in the use of Narcan. "We highlight that it can't hurt anyone so it's important to go ahead and use it." Also she emphasizes the Good Samaritan law applies which says that you can't get in trouble for trying to help and administering it to someone. It is scary but the more we talk about it, we can normalize it." 
Dr. Matt Leonard, an emergency room doctor at Suburban Hospital in Bethesda, says, "Administering Narcan is similar to a defibrillator. It is a simple intervention that can save lives. I feel there is a tremendous fear of litigation if something goes wrong so it's important to educate people about the Good Samaritan law in any intervention."
Leonard lives in Arlington and has 15-year-old twins at Yorktown High School and a twelve-year-old at Williamsburg Middle School. He says they have open discussions in their family about what the kids are seeing in school and their friends' groups. "There should be more open non-punitive discussion between parents and kids about what you do."
Devaney says there were three different community conversations held at high schools this past week led by the substance abuse counselors to educate the community about the issues of opioid use in the schools. She says, "It's really frightening so it's important to talk about the warning signs. Parents are hungry to know more." Devaney says we can't train the students to use Narcan but we can educate them about the problem because they will be seeing it in the schools. And friends help each other; the more you talk about it, the easier it gets. 
"We know opioids are used widely and we want to be sure we reach everybody." She continues, "We don't always know who needs support. There are definitely more referrals to see a substance abuse counselor in the schools and at younger ages." There are only six counselors for all 41 schools—so few," she says. "But we are trying to make sure we reach every single classroom, casting a wider net."
Iris Gibson, teacher at Langston High School Continuum Program, keeps two doses of the free Narcan spray in her desk drawer at school. She has never used it and hopes she never will. "But, drugs are quite a problem. The kids go into the bathroom and come out behaving differently. What we see is students crushing up drugs and lighting them on fire in aluminum foil. They inhale the smoke and it gets them high faster."
Gibson says the school has some kids on probation so they refer them to drug testing. "But the kids test negative. We have no idea how this can be. Maybe because they are synthetic drugs and don't show up. We would love to know." She says she has watched the video and feels confident she would know how to administer the Narcan but she says she has also taken the hands on in person training.
Leonard says he sees increasing presence of opioid ODs in the emergency room, almost on a daily basis especially with the current fentanyl crisis, and he sees some of the same patients return. But he says the hospital sends discharged OD patients home with a Narcan kit which has reduced recidivism. Leonard says the patients are getting younger and younger with high school and middle school kids. "I think this is because of COVID and the psychological concerns, the isolation and kids spending more and more time at home with access to their parents medications.
"And unfortunately social media has changed things with more information available out there like Tik Tok and Facebook allowing more opportunity for kids at a younger age to be exposed to really dangerous drugs. Everyone has a phone and knows what happens within a matter of minutes."
Devaney adds that the answer to a parent's question in community conversations about where their kids get the drugs is "honestly we don't know but it seems likely online where they are easily accessible and inexpensive like three or four dollars a pill." She says the substance abuse counselors say they see fentanyl in the schools and they hear straight from the students who is using drugs and if they use themselves.
Leonard adds that kids also get a lot of drugs from their parents' supply. "The parents may be using chronic pain medications. The kids take medications from their parents' supply and pass them around at what they call 'skittle parties.' Kids don't even know what they are taking. They also get drugs from their friends."
Leonard says a lot of incidents happen in school bathrooms with just kids there so it's important to have teachers empowered to act within the first 4-5 minutes before significant brain damage can occur. Narcan can reverse the effects and buy time for the first responders to arrive.
Leonard applauds the efforts of APS to highlight the issues and to train the school personnel. 
The Yorktown teacher adds, "I can be part of the solution but I wish we could have more of a systemic response to this monster. We have to be reactionary now because we didn't have a proactive response a decade ago." 
Gibson agrees APS is doing as much as they can. "It's a terrible problem. It's not their fault there isn't enough [Narcan] supply. And to expect us to have eyes and ears in every corner at school is an impossible task. I feel there is a lot of emphasis on what schools are doing but we have to do more on a societal level. The schools can't do it alone."
Leonard says he thinks recent events in the school system have brought to light a problem that has existed a long time. He says that that drug use and ODs have been stigmatized in the past. "It's been the dirty little secret." But he stresses that addiction truly is a disease, a medical illness, and we need to have a non-judgmental attitude. He adds that frank discussions are essential to early intervention that can truly save lives. "As an emergency room physician there are few things I do on a daily basis that can save lives as a physician and administering Narcan is one of them."
Arlington County in conjunction with the Drug Enforcement Administration encourages the disposal of leftover medications in their biannual Prescription Drug Take Back Day events. They accept tablets, capsules, patches, vitamins, pet medications and other forms of prescription drugs but not liquids, syringes, and other sharps. In addition, the County maintains four permanent drug take back lock box disposal boxes around the area on a regular basis.
Arlington offers free online Narcan training the first Wednesday of each month at 12 p.m. and 7 p.m. It teaches the basics of the opioid epidemic and how to recognize and respond to an overdose. At the completion of the training you will be provided a free Narcan nasal spray by mail. For more information email narcan@arlingtonva.us
Symptoms of Overdose
Pale, clammy skin
Breathing infrequent or stopped
Deep snoring or gurgling (death rattle)
Unresponsive to any stimuli
Slow or no heart rate or pulse
Blue lips and/or fingertips
Responding to Suspected Overdose
Check for responsiveness by pinching an earlobe or rubbing the sternum.
If no response, administer naloxone with a needle or nose spray, which will last 35-40 minutes. 
Place individual in a recovery position on the side to enhance breathing and prevent choking.
Call 911 and tell them as much as you can.
If the person has not yet started breathing, turn person over on back and initiate rescue breathing, one breath every five seconds for three minutes.
Assess and administer second naloxone if needed.
Apply "I have received Naloxone" sticker to the person's hair or clothing.
Be prepared to comfort them until help arrives because if the treatment is working the person will go into withdrawal and may vomit, start swearing, or come out punching. 
Overdose Don'ts
Do not put the person in water or an ice bath.
Do not induce vomiting because they aren't conscious and could choke.
Do not try to stimulate the person with a hard slap or kick.
Do not inject with foreign substances like salt or milk.
. 
Police-Investigated Incidents Involving Opioids in Arlington
The data below is an overview of all police investigated incidents involving opioids in Arlington. In response to large increases in the number of incidents involving opioids in recent years, the Arlington County Police Department continues to improve the way incidents are tracked and investigated. The Department's Organized Crime Section is consulted on all opioid overdose incidents and when possible, overdose victims are referred to the Department of Human Services peer support programs for follow-up.