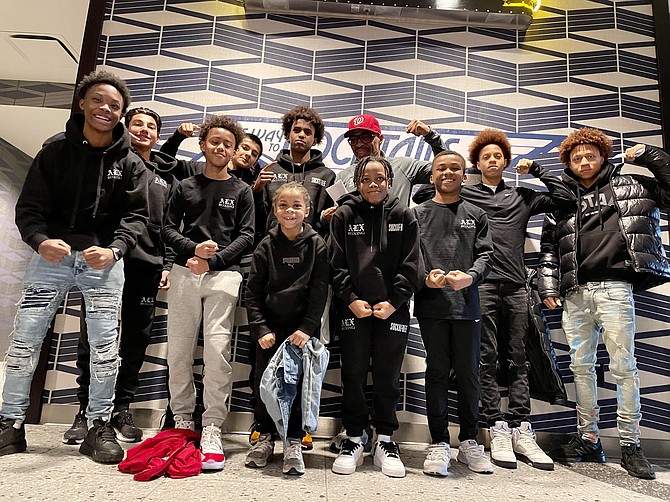 Members of the Alexandria Boxing Club were the special guests at an advance screening of Creed III Feb. 28 at the Alamo Drafthouse Crystal City.
"We are very excited to be here," said club representative Alice Williams. "We were invited to be the special guests as part of a charity night for Fight for Children and Variety DC. We are getting prepared for the National championships regionals next month so I'm glad they have the opportunity to relax and see this movie before they head on to the qualifiers in Detroit."
Alexandria Boxing head coach Jeffrey Johnson said the evening was a special opportunity for the kids.
"This was a great movie and gave the kids a chance to see what they already go through in their own training," Johnson said. "But they also get to see the will, not just the skill, that it takes to be a champion. It's the will that they need to understand. They have the skill but they don't understand the will so much."
Terriel Cooke Sr. attended the screening with his son, Terriel Jr., a boxing club member and student at Francis C. Hammond Middle School.
"The Alexandria Boxing Club has done a lot for my son," said Cooke Sr. "It provides camaraderie and teaches a lot of discipline."
Founded in 1980, the Alexandria Boxing Club is a structured after-school program for kids focusing on development, self-respect and assurance to support their "fight" for a better life.
"I started with Alexandria Boxing over 40 years ago," said local boxer Anthony Suggs, a five time Golden-Gloves Champion, National Golden Glove Finalist, Golden Gloves Outstanding Boxer of the year and Olympic Festival Gold Medalist. "Boxing has helped me out tremendously in life. It has helped me make better decisions and better choices in life"
Current club member Marcus Luther said the movie helped fuel his inspiration leading up to the upcoming competition.
"I like how tonight incorporated the real boxing community with the movie," said the 16-year-old who has been boxing since he was 6. "I got to connect on a personal level and it inspired me as I prepare for the Eastern qualifier for Nationals in Detroit."
In the last 40 years, Alexandria Boxing has been home to thousands of aspiring youth–some of whom have gone on to become National Champions, World Champions and Olympians, including Troy Isley. Life skills are a key component of the teachings of the club.
"I try to go through life with a don't quit, never give up attitude that I developed through boxing," added Suggs. "Like Rocky, he gets beat up in the beginning but then he keeps on fighting. He doesn't stop, he never gives up and always comes out a winner."
www.alxboxingclub.org